When Eudora High football coaches and players think back to last year's two-win season, they all have the same response: It left a bad taste in their mouths.
But the offseason and the start of the summer workouts showed the Cardinals that they are ready to put any of their feelings about last year aside.
The Cardinals completed their own team camp in the first week of June, then competed for two days in the University of Kansas football team camp.
"I think our progress has been good," Eudora coach Phil Katzenmeier said. "These guys, especially the senior class, have done the right thing in the last six months and by the right thing, I mean they've been doing anything they can do to get better as a team."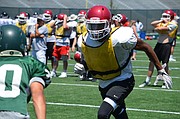 At the team camp, when the Cardinals scrimmaged against much bigger schools, they showed plenty of improvement on the second day. In the scrimmages, one team plays defense for several plays while opposing schools rotate offenses each play.
Eudora returns David Adler and Sawyer Tomlinson on the offensive line, and is expected to be led in the backfield by quarterback Gavin Elston, running back Khalil Thrasher, fullback Austin Ormsby and running back Carter Neis.
"We were getting to the right places, I think, with our offensive line," Katzenmeier said. "It's still June, but we did a lot of things well…. I know I feel a lot better right now than I did when we got here."
Despite playing against much bigger linemen, the Cardinals were happy with how they performed in their scrimmages.
"It makes us learn how it feels playing against bigger teams and people that are just naturally and physically bigger than us," said Adler, who plays left guard. "It helps me. It makes me learn how to play against that."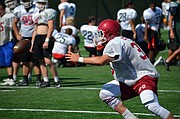 Another bonus of the KU team camp was the school's freshmen had the opportunity to play against other freshmen instead of practicing versus Eudora's upperclassmen.
Katzenmeier said 40 players participated in the team camp, returning nearly every underclassman who played last year, which only helps the squad.
"Our coaches mentioned it last week, we seem like we're so far ahead of where we were last year at this time," said Katzenmeier, entering his third season as head coach. "You just notice it in drills. You notice it when you're teaching a play. You notice it when you run a play. We'll forget last year pretty quick and really focus on what the future has for us."
Playing in a tough district, along with the Frontier League, the Cardinals are confident that they will be prepared for the upcoming year, especially after improving throughout the first two weeks of the summer.
"We still have a lot to get better at. I know that myself and I have to get better myself," Adler said. "But if we all can get individually better, we can start doing better stuff. We have the potential in my opinion."
Copyright 2018 The Lawrence Journal-World. All rights reserved. This material may not be published, broadcast, rewritten or redistributed. We strive to uphold our values for every story published.