Traveling to a USA Track and Field regional last week in Joplin, Mo., Free State senior Cameryn Thomas knew she was going to face some tough competition.
But she was determined to find a way to qualify for the USATF National Junior Olympics at Rock Chalk Park, which will begin on July 24.
Competing in the heptathlon, Thomas completed her goal when she was crowned champion in the 17-18 year old women's division with 3,939 points, more than 100 points ahead of second place.
At the same regional, Lawrence High senior Hunter Krom added a first-place finish in the javelin, qualifying himself for the Junior Olympics.
"It's awesome," Thomas said. "I was kind of worried that I wouldn't qualify and then it would be right down the road. Luckily, that didn't happen."
During the heptathlon events, Thomas took first in the high jump (5 feet, 1.25 inches), 200-meter dash (26.91 seconds) and long jump (17-1.5). She was runner-up in the 800 (2:36.47).
For most events at the USATF regionals, the top five placers receive spots in the Junior Olympics. But for multi-event competitors, only two spots are available.
"I saw some of my competition and it was pretty tough," said Thomas, who placed sixth in the long jump at state in the high school season. "I just had to fight until the end to be able to qualify and it was pretty exciting."
Thomas, a three-sport athlete, started competing in the heptathlon last summer. She figured all of her versatility from other sports, volleyball and basketball, would help her perform well in multiple events.
The hardest part, besides learning the skills for separate events, is balancing time to practice while preparing for the upcoming volleyball season.
"With summer track, I kind of have to find my own time to train," Thomas said. "I run unattached without a team, so being able to find a track and finding all the implements to be able to practice is tough."
Thomas has a goal of earning a top-eight medal at the Junior Olympics, but is excited about her future competing in the heptathlon and hopes to continue at the collegiate level.
"That's definitely what I want to do," Thomas said. "I fell in love with it last year. It's pretty much all I want to do so I'm excited for it."
Krom was champion the men's 17-18 division of the javelin with a best throw of 183 feet, 5 inches. He won by nearly 15 feet.
"I'm thrilled to be able to be a part of (the Junior Olympics)," Krom said. "A little bit nervous but I think it'll be good."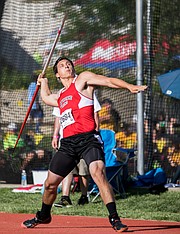 In the high school season, Krom finished second at state with a personal-record throw of 204 feet, 2 inches. He's matched the 200-foot plateau once in practice and that's his goal at the Junior Olympics.
Preparing for the regional, one of 16 across the country, Krom said he spent most of the week working on his throws.

"I figured if I throw as good as I practice, then I'd have a good shot at (qualifying)," Krom said.
Along with Thomas and Krom, Jack Keathley-Helms, who is entering the eighth grade at Corpus Christi, qualified in three events in the boys' 13-14 division: 400 (56.28, fifth place), 800 (2:11.07, second) and 1,500 (4:40.90, fourth).
With the Junior Olympics in Lawrence, it just served as extra motivation for the local athletes during their regional.
"It means that I can get some friends to come support me," Krom said.
Copyright 2018 The Lawrence Journal-World. All rights reserved. This material may not be published, broadcast, rewritten or redistributed. We strive to uphold our values for every story published.