When Lawrence High's football team opened its weeklong team camp in July last year, the Lions were in the first stages of preparing their no-huddle offense.
A year later and the Lions are ready to take their offense to new level.
The Lions, practicing in only helmets Monday, moved faster and with more confidence in between plays. The camp is serving as more of a refresher course than an entrance exam with coaches waving hand signals from the sidelines.
"It's fun and we're changing some things up with the no huddle as far as even trying to be faster than what we are," Lawrence coach Dirk Wedd said. "We'll see where that goes. It still comes down to once the ball is snapped, you have to block or tackle or whatever."
With several returning starters on offense, including senior quarterback Dante Jackson, they are looking to pick up where they ended last season. Lawrence averaged 36.1 points per game.
Senior Ekow Boye-Doe, senior Jalen Dudley and junior Caleb Mondi led the receivers Monday as the offense worked on drives down the field. Wedd noted Boye-Doe might start on both sides of the ball because of his impact at cornerback and receiver.
"Having Dante is the key," Wedd said. "He ran it last year and he feels really comfortable doing it. (Boye-Doe) and Jalen are really good on the outside. They understand the routes already and they understand spacing. The passing game is pretty far advanced right now."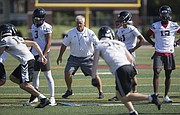 On the defensive side of the ball, players were forced to learn their assignments quickly, through their own hand signals, going against a no-huddle offense.
What's the toughest part of facing a quick-tempo offense?
"Knowing your plays without having all of the coaches yelling at you," senior middle linebacker Chris Boyd said with a laugh. "I think that's a big one."
Wedd credited assistant coaches Adam Green, Jeff Lyster and Jeff Coulter for helping instruct a defense, which is filled with newcomers. There are a few returners with some varsity experience, but most of defense is learning on the fly.
Even with players on the defense in adjusting to newer roles — Boyd moved from outside linebacker to the middle — they aren't starting from scratch.
"It's not really as much new guys," Boyd said. "It's more like we're seeing what the guys have now. They were just sitting on the sideline last year so now we're all seeing what they can bring to the team."
Wedd added: "It's just, like every year it seems like with us, we can't get banged up. We're very thin."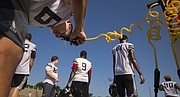 The Lions had about 10 days off between Monday and their last practice. Last month, they competed in a couple of padded team camps and a no-contact camp.
Returning from a short break, players said it was easy to notice which players continued to stay in shape.
"It's a lot easier to stay in shape than to come back into shape," senior running back Hunter Krom said.
About a month from starting regular practices leading into the fall season, the Lions are excited about their progress throughout the summer.
But with plans to continue improving before their first game on Aug. 31, they want to keep their expectations to themselves.
"It's more like a don't talk about it, just do it, type of thing," Boyd said. "So we're going to keep it classified."
Copyright 2018 The Lawrence Journal-World. All rights reserved. This material may not be published, broadcast, rewritten or redistributed. We strive to uphold our values for every story published.