Topeka — A Kansas House committee is poised to vote Wednesday on a bill that would exempt all publicly owned hospitals, nursing homes and mental health facilities from a law that will soon require most other public buildings to allow people to carry concealed handguns inside.
Rep. John Barker, R-Abilene, who chairs the House Federal and State Affairs Committee offered that amendment Monday onto a bill that originally exempted only the University of Kansas hospital campus in Kansas City, Kan.
"As you know, I carried a gun for many years. Carrying a gun carries a lot of responsibility. In fact, I was required to carry a gun, even in places where I didn't want to carry one," Barker, a former military police officer said explaining his amendment. "I think this is a reasonable approach, a balancing act."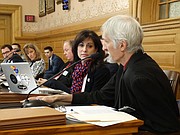 Barker offered the amendment after a motion to table the underlying KU hospital bill failed on an 8-12 vote. That may have been an indicator that there are enough votes on the panel to pass at least some limitations on a law that takes effect July 1 mandating that concealed weapons be allowed in nearly all public buildings in Kansas, including on college and university campuses.
His amendment quickly sparked a debate between lawmakers who support restricting the right to carry concealed weapons and those who believe the Second Amendment guarantees a near-absolute right to bear arms.
"There was an individual who said in this committee security cannot babysit or protect everyone," said Rep. Trevor Jacobs, R-Fort Scott. "Well, it is my God-given right to be able to possess any means I can to protect myself and my family. And that God-given right, there is no one who has the ability to take that away from me or my constituents."
Rep. Vic Miller, D-Topeka, said that while he supported the underlying bill because of the volume of testimony in support of it from KU officials during a public hearing Feb. 2, he did not support Barker's amendment because there hadn't been similar testimony regarding other public hospitals and health facilities.
Rep. Boog Highberger, D-Lawrence, however, pointed out that there had been significant testimony from the Kansas Hospital Association as well as mental health centers and nursing homes during a hearing on another bill that would provide a broader exemption for college campuses and other public buildings.
"This bill does not infringe on anyone's Second Amendment rights," Highberger said. "The United States Supreme Court has never recognized the right to concealed-carry a firearm in a public place."
Highberger went on to say that he didn't understand why people think they need to carry firearms in public buildings.
"When a skinny old guy like me can walk around these places and have no fear, I don't understand why so many other people are so afraid they feel compelled to carry a firearm in these places at all times," he said.
Rep. Kristey Williams, R-Augusta, however, argued that women in particular have good reason to feel afraid.
"I'm even speaking from personal experience," she said. "If I'm walking out at night after a late shift, there is just a little bit of slight fear there, and not everybody can understand that. But I would feel safer having that Second Amendment right and privilege to just carry a firearm, in the event, the unlikely event that I was approached."
Debate on the bill went so long that the committee ran out of time Tuesday. Barker, however, said the committee will pick up Wednesday where it left off, so a vote on whether to advance the bill to the full House is likely to happen then.
Copyright 2018 The Lawrence Journal-World. All rights reserved. This material may not be published, broadcast, rewritten or redistributed. We strive to uphold our values for every story published.