Topeka — Supporters of a bill to expand the Kansas Medicaid program turned out in such numbers Wednesday that Statehouse officials had to set up dozens of chairs outside the committee room so people could listen to testimony over a loudspeaker.
That was the scene on the second day of testimony for a House bill that would take advantage of a provision in the federal Affordable Care Act, also known as Obamacare, even as the new Trump administration in Washington and the Republican-controlled Congress are actively trying to dismantle that law.
"I know there's some uncertainty with what's happening in Washington, but we have an opportunity to take advantage and do what's right for Kansas to protect our interests," said David Jordan, executive director of the Alliance for a Healthy Kansas.
That group is a coalition of hospitals, health care providers and local chambers of commerce that all support the bill, which they say would extend health care coverage to 150,000 Kansans who currently don't qualify for Medicaid but who don't earn enough to qualify for subsidies so they can buy individual coverage on the exchange markets.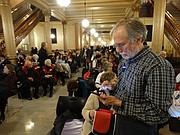 Meanwhile, Gov. Sam Brownback issued a statement Wednesday reiterating his opposition to Medicaid expansion.
"President Trump was elected having declared his intention to do away with Obamacare, and he has already taken action to alleviate its onerous regulatory and financial burden," Brownback said. "Kansas should not tie itself to this failed program of the past just before its inevitable demise."
But Joe Reardon, who heads the Greater Kansas City Chamber of Commerce, said it's not yet clear that Medicaid expansion will necessarily be repealed in whatever new health care plan comes out of Washington.
"We say that because we know many of the states that have already expanded Medicaid in their states are advocating for that expanded Medicaid to survive whatever change that may occur," he said. "That includes Republican governors from several states that have already expanded Medicaid."
The Affordable Care Act allows states to expand Medicaid coverage to all individuals and households with incomes up to 138 percent of the federal poverty level, or $33,600 a year for a family of four. The federal government pays 90-95 percent of the cost of enrolling those newly eligible patients.
State officials estimate that would cost the state general fund $31.8 million in the first year of operation, but it would bring in an estimated $512 million in federal reimbursements. In the following fiscal year, the state would spend $73.4 million but would draw down $966 million in federal funds.
Suzanne Emmons, a self-employed housekeeper from Allen County who is raising two grandchildren and helping to care for her 78-year-old mother, described herself as one of the 150,000 people who would gain health coverage through Medicaid expansion.
"I'm frustrated and sometimes angry that I now live in constant fear about what we'll do if I get sick," she said. "You see, I'm uninsured and in fact I'm one of the able-bodied people the Kansas government has thus far denied coverage."
Emmons said she had private insurance before she took guardianship of her granddaughters. But with those children, her insurance became too expensive and fell into what is often called the "coverage gap."
"Because I live in Kansas, a state that has not expanded Medicaid, I find myself earning too much to qualify for the current KanCare program and too little to qualify for the marketplace," she said.
Meanwhile, local chamber officials said the hundreds of millions of federal dollars that the expansion would bring to Kansas would create jobs and stimulate local economies.
"KanCare expansion can help to create jobs, protect hospitals in Kansas communities and improve access to care for over 150,000 Kansans," Hugh Carter of the Lawrence Chamber of Commerce said in written testimony submitted to the panel.
"In addition to lost wages, the long-term costs associated with those unable to receive preventative care have a negative economic impact on communities," he said. "Without KanCare expansion the uninsured continue to seek access to health care in the emergency rooms, which leads to increased costs for all Kansas taxpayers."
Wednesday's hearing was devoted to testimony from people in favor of the bill. Earlier this week, the panel heard neutral testimony from people explaining the details of the bill. Opponents of Medicaid expansion are scheduled to testify Thursday.
Copyright 2018 The Lawrence Journal-World. All rights reserved. This material may not be published, broadcast, rewritten or redistributed. We strive to uphold our values for every story published.