Still coaching at Pittsburg State in late October, Steve Rampy watched from the crowd to evaluate players as Lawrence High's football team played Free State in the City Showdown.

Exactly two months later, Rampy was introduced as Lawrence High's new football coach to more than 40 players in the school's cafeteria Wednesday. Rampy replaces 19-year coach Dirk Wedd, who is retiring at the conclusion of the school year.
Rampy started as assistant coach at Blue Valley High in 1981 and he saw Lawrence as the "mecca" for high school football. He considers former Lawrence coach Dick Purdy as one of his coaching idols early in his career. Plus, he shared interactions with former LHS coaches Al Woolard and Bill Freeman.
"I've been really close to the success of this school and the traditions and the history, so I have great respect for this place," Rampy said. "Then Dirk has been a really, really good friend of mine for the past 20 years. So it was an easy transition, easy decision to make. I'm thrilled about the opportunity."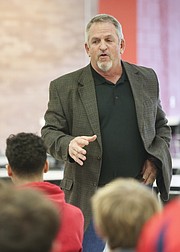 Rampy spent the last eight years as an offensive coordinator at Pitt State, which included an NCAA Division II national championship in 2011. Before that, he was a head coach at Blue Valley for 25 seasons. He led the Tigers to four state championships and eight title game appearances.
"I feel like I'm a better coach, a better student of the game now than I was when I left (Blue Valley)," Rampy said. "I'm excited to bring some of the things that I learned to the high school level and implement them. I think they are going to be really, really successful and I'm excited about that."
Speaking to his players for the first time, Rampy asked them to guess when is the best day to hold a practice. One player said the first day of the season. Another answered the day before a game.
Rampy agreed that those were great days, but "the greatest day to practice football is Thanksgiving morning." The coach noted everyone is on vacation, alumni are back home, it's a day to give thanks and it means a team will be playing in the state championship in a couple of days.
"There are no secrets to this game," Rampy told players. "It still comes down to blocking and tackling. No matter how many whistles and bells I'm going to show you on offense, and I'm going to show you a lot of them, it comes down to blocking and tackling and working hard."
Lawrence athletic director Bill DeWitt said Rampy stood out from a "great pool" of applicants because of his knowledge of the high school level and his success at Blue Valley. Rampy won Class 5A state titles in 1991, 1998, 2003 and 2006.
"What he did at Blue Valley was incredible," DeWitt said. "When we found out that he was wanting to get back in the high school game, we really hoped that Lawrence would feel like a good fit for him and fortunately he feels like this is."
Both of Rampy's sons coach at Shawnee Mission North. His oldest, Zach, was named the head coach Tuesday. The two Sunflower League schools aren't scheduled to play each other in the next two seasons.
"I'm so proud of both of them," Rampy said. "They are both really good people and they worked really hard and they make an impression on anybody that meets them. They are going to do great. Need to play them now before they get that program going."
Rampy met with the program's assistant coaches Wednesday and plans to talk with them further in the upcoming weeks. As players continue through the offseason, Rampy said he was looking forward to "jumping with both feet in" once school ends in May and the Lions can begin team camp.
"I don't have any expectations right now. Those will happen as we get going," Rampy said. "No promises today. We're just going to come in and work hard every day."
Copyright 2018 The Lawrence Journal-World. All rights reserved. This material may not be published, broadcast, rewritten or redistributed. We strive to uphold our values for every story published.