Topeka — Kansas Attorney General Derek Schmidt on Monday urged state lawmakers to consider a constitutional amendment in the upcoming session that would clarify the state's responsibility in funding public schools, even though such a move probably would not alter the current ongoing litigation.
Speaking before a special legislative committee that was formed to review the latest Kansas Supreme Court decision on school finance, Schmidt said he thinks it's no longer clear what Kansas voters intended when they approved in 1966 the current constitutional language contained in Article 6 of the Kansas Constitution.
"I think we ought to be having a discussion in this state about whether where we are 50 years after the language in Article 6 was adopted in its current form is where we intend to be with respect to how we handle these school finance disputes," Schmidt told the panel.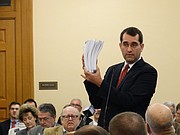 In 1966, Kansas voters approved a constitutional amendment that overhauled the way the state's public schools are governed. The most significant change was establishing an elected State Board of Education and an appointed education commissioner who would supervise the state's public schools.
Included in that amendment, however, is a 15-word sentence that has been at the heart of multiple school finance lawsuits, including the current case, Gannon v. Kansas: "The legislature shall make suitable provision for finance of the educational interests of the state."
In the years since that language was adopted, state courts have said that means the Legislature is primarily responsible for funding public schools and that the funding must be both adequate and equitable.
Most recently, in 2014, the Kansas Supreme Court said that to be considered "adequate," funding must be "reasonably calculated to have all Kansas public education students meet or exceed" certain educational outcomes that were spelled out in a 1989 Kentucky school finance lawsuit, Rose v. Council for Better Education, standards now commonly referred to as the "Rose capacities."
"It is not possible that the people of the state of Kansas, when they approved suitability, had Rose vs. Kentucky in mind," Schmidt said.
Schmidt has been working with a group of legislators, including Senate Majority Leader Jim Denning, R-Overland Park, to draft a proposed amendment to be considered in the upcoming 2018 session. But he cautioned the panel to think of an amendment as a way to control future litigation, not to direct the outcome of the current lawsuit.
And although he did not talk about the details of that proposal, he listed several things that he thinks the Legislature should consider, such as specifying what entities should be allowed to challenge a school funding act and what kinds of remedies courts should be allowed to order in such cases.
The current school finance case was filed in 2010 shortly after the Legislature and then-Gov. Mark Parkinson, a Democrat, made deep cuts in school funding in the wake of declining state revenues during the Great Recession.
The case has been before the state Supreme Court a number of times. In February, the court ruled that funding levels in place at the time were both insufficient and inequitable, and it gave lawmakers until July 1 to correct the problems.
Lawmakers responded by passing a new school funding formula that added roughly $300 million a year in new funding, phased in over two years. But in October, the court said the state still had not met its burden to show how that would be enough to meet the adequacy test, and it ordered the Legislature to come up with another solution.
The court also said it would not allow the state to operate an unconstitutional funding system beyond July 1, 2018, a statement that many have interpreted as a threat to close the state's school system if the Legislature fails to comply.
Rep. Blaine Finch, R-Ottawa, who chaired the special committee, said it is likely that lawmakers will take Schmidt's advice and at least consider a constitutional amendment.
But Senate Minority Leader Anthony Hensley, D-Topeka, said he saw no point in trying to change the current constitutional language.
"We've had this constitutional provision for a long, long time," he said after the meeting. "I think the problem is the Kansas Legislature historically has not lived up to its constitutional duty to adequately and fairly fund schools."
A constitutional amendment requires approval from two-thirds of the members of both the House and Senate, as well as a majority vote of the people in a general election.
Copyright 2018 The Lawrence Journal-World. All rights reserved. This material may not be published, broadcast, rewritten or redistributed. We strive to uphold our values for every story published.