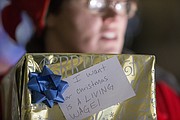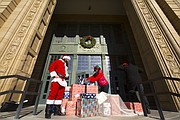 Christmas came early for top administrators at the University of Kansas on Thursday, as a handful of graduate students dropped by offices at Strong Hall bearing gift-wrapped boxes.
Dressed as Santa Claus and his elves, a group of about half a dozen representatives from KU's Graduate Teaching Assistants Coalition marched down Jayhawk Boulevard in protest of what they described as an "erosion of rights and resources" for the university's graduate students.
Among their demands: higher wages, better health insurance and access to resources such as free printing for class materials. (While students are provided $12 worth of free printing between the spring, fall and summer semesters, those employed as GTAs are considered employees of the university and thus do not receive that privilege.)
"It's hard to provide Christmas on a graduate student's salary," said Ruth Stamper, a doctoral student and GTA in KU's sociology department. Stamper, along with her colleagues, delivered colorfully wrapped boxes to Strong Hall, each one labeled with a wish-list item from KU's graduate students.
"All I want for Christmas is a living wage," one note said.
At KU, GTA salaries start at around $15,000 per year, Stamper said. Protesters also said Thursday that their health insurance only covers nine months out of the year.
These grievances are now compounded by worries over the GOP's proposed federal tax overhaul, which could drastically increase taxes for graduate students across the country by taxing the tuition waivers many receive for teaching or researching. Universities and graduate students have warned against the plan, arguing that it would make pursuing an advanced degree significantly harder.
But Stamper and her fellow protesters argue there are "things we can do and advocate for" on a more local level that would "drastically improve" graduate students' professional and personal lives.
"We're not just doing this for us," said Stamper, decked out in an elf hat. "We want all graduate students to have access to better resources, better health care — and to be advocated for."
Copyright 2018 The Lawrence Journal-World. All rights reserved. This material may not be published, broadcast, rewritten or redistributed. We strive to uphold our values for every story published.