A man who broke out two large storefront windows at a downtown Lawrence candle shop has been sentenced for the crime.
Douglas County District Court Judge Kay Huff sentenced Elija M. Walker, 37, of Lawrence, last week to 10 months in prison, but allowed the time he'd already spent in jail in the case — 323 days — to fulfill that sentence, according to Cheryl Wright Kunard, assistant to District Attorney Charles Branson. Wright Kunard said Walker was released from Douglas County to custody in Shawnee County, where he has another pending court case.
She said the judge also ordered Walker to pay $1,212.33 in restitution to the business.
About 10:30 p.m. Jan. 8, Walker used a club or stick to break out two large windows at Waxman Candles, 609 Massachusetts St., prosecutor Deborah Moody said. He was arrested later that night.
On Oct. 25, Walker — who was initially charged with criminal damage to property, a felony — pleaded no contest and was convicted of one count of attempted criminal damage to property, also a felony.
At that hearing Walker told the judge he was frustrated with how long his case was taking.
"I am not OK with the way things have gone," he said. "I just want to lay this to rest."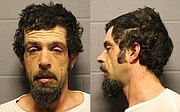 The judge said various steps, including motions and a mental competency exam, caused the case to take longer.
Nothing was stolen from Waxman, the owners told the Journal-World after the crime. Besides repairing the windows, they said it took a lot of work to remove broken glass that was "all over" the store and products inside.
Contact public safety reporter Sara Shepherd
Have a tip or story idea?
785-832-7187

---

More stories
Copyright 2018 The Lawrence Journal-World. All rights reserved. This material may not be published, broadcast, rewritten or redistributed. We strive to uphold our values for every story published.