Pinckney Elementary School students celebrated their own special kind of homecoming earlier this week. After spending the last year in the former East Heights building while bond renovations temporarily shuttered their own school, Pinckney students and families on Tuesday were treated to a sneak peek of the new-and-improved Pinckney, which recently wrapped construction on its $6.5 million bond projects.

The historic building, which celebrates its 85th anniversary this year, is the last of the district's 2013 bond projects (totaling $92.5 million) across the district's 14 elementary schools. Among the highlights at Pinckney: a renovated library media center complete with makerspace and low-level mobile shelving, a two-story addition along the building's northwest side, learning pockets for collaborative study, updated playground equipment, and a completely remodeled kitchen that will allow cafeteria staff to prepare and serve food straight from the Pinckney ovens. (In the past, meals were delivered from Free State High School.)
Here's a look at what the Journal-World saw during Tuesday night's open house at the made-over Pinckney:

Photo Gallery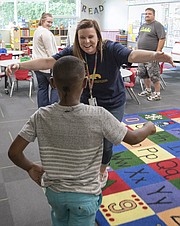 Pinckney Elementary School bond improvements
Pinckney Elementary School was renovated during the last year and added a new art room, two new kindergarten rooms with restrooms attached, two new fifth-grade rooms, multiple learning pockets, a new cafeteria and kitchen.
Copyright 2018 The Lawrence Journal-World. All rights reserved. This material may not be published, broadcast, rewritten or redistributed. We strive to uphold our values for every story published.