In 60 years as a reporter, Bob Schieffer said he's never seen an election quite like the one that recently landed Donald Trump in the White House.
That cycle and the resulting administration have proven a reminder of the continued importance of journalism to democracy, Schieffer said Thursday while speaking at the University of Kansas. Journalists shouldn't be arrogant or attempt to be "arbiters of all morality," he said, but should hear the government's version of events and evaluate and report it independently.
"Just keep asking questions," Schieffer said. "We're just simply there to ask the people in power why they do what they do."
Schieffer was the keynote speaker at the KU School of Journalism's William Allen White Day Program at the Kansas Union.
Schieffer spoke on behalf of fellow television journalist Charlie Rose, who was awarded the 2017 William Allen White Foundation National Citation but could not receive it in person due to health reasons.
Schieffer said he was honored to be asked to speak on Rose's behalf and that the foundation "couldn't have made a better choice" for the citation.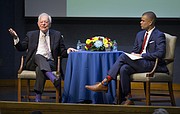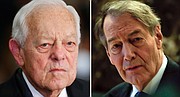 Rose is anchor and executive editor of "Charlie Rose," the nightly one-hour program that engages in one-on-one conversations and roundtable discussions, and the recently launched "Charlie Rose: The Week," chronicling the best stories and interviews of the past seven days. He also co-anchors "CBS This Morning" and is a contributing correspondent to "60 Minutes."
Schieffer started out as a newspaper reporter and has worked for CBS News since 1969, where he anchored "Face the Nation" and the Saturday edition of "CBS Evening News" for more than two decades. In addition to eight Emmys, he has received the Edward R. Murrow Award given by Murrow's alma mater, Washington State University, and has been named a "Living Legend" by the Library of Congress.
Schieffer's talk Thursday highlighted serious issues facing the journalism profession today, as well as colorful anecdotes from his time in the field.
Those included an awkward encounter with a particularly graphic passage of the Starr report — the investigation of the Monica Lewinsky scandal — while reading the report on live television; a recent interview with country music legend and fellow yet-to-retire octogenarian Willie Nelson; and being in London with Walter Cronkite when the elder journalist, a mentor to Schieffer, saw a police car speed by, tapped on the window of a taxi and said "follow that car."
The police car ended up stopping at a relatively minor accident, Schieffer said, but the enthusiastic Cronkite's philosophy was that you can't be too careful.
The current digital era is a crossroads for journalism, Schieffer said.
Schieffer said he predicts printed newspapers will end, maybe even in the next 10 years, and that in the meantime, there are both good and bad sides to the era of digital news.
"I think it is as profound as the invention of the printing press, and we're right in the middle of it," Schieffer said. "We're in the midst of this thing, and we don't know how it's going to come out."
As for the current political climate, "we live in very, very dangerous times," Schieffer said.
"When the president of the United States comes on television, we want to be able to believe what he is saying," Schieffer said. "...Right now, there seems to be considerable chaos, and I don't think that's very good."
Not unlike Nelson told him in their recent interview, Schieffer's enjoyment of his career is what has kept him working later in life.
"I can't think of anything that I could've had more fun doing," he said.
There's a lot of pressure on young people to succeed, often defined as making a lot of money, Schieffer said. But his advice to them was to pick out something they like to do and pursue it, and to change directions if it doesn't work out.
"Don't be afraid to stretch," Schieffer said. "Don't be afraid to follow your dream, and most of all don't let anybody talk you out of your dream."
---
Tribute to Gwen Ifill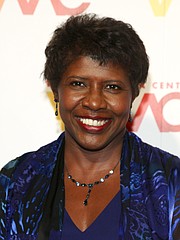 "PBS Newshour" anchor Gwen Ifill won the 2016 William Allen White Citation but was unable to travel to KU to receive it last spring due to health reasons. Ifill died of cancer in November.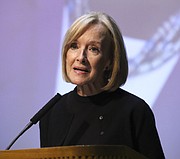 On Thursday, Judy Woodruff, Ifill's former "PBS NewsHour" co-anchor, gave a tribute to Ifill.
Ifill epitomized the award, Woodruff said.
She was curious about everything, had "a joy" about the work of a reporter and the work she did every day, and was known for extending a hand to others coming up in the profession, Woodruff said. In particular, she cared about journalists of color, women and others who for whatever reason faced challenges in getting ahead in their careers.
"Congratulations," Woodruff said. "You chose very well."
Contact KU and higher ed reporter Sara Shepherd
Have a tip or story idea?
---
More stories