The Bert Nash Community Mental Health Center this week announced its newest CEO. Patrick Schmitz will replace longtime Bert Nash leader David Johnson, who will retire in July after roughly 17 years in the position.
Schmitz, 51, has served as executive director of the Le Mars, Iowa-based Plains Area Mental Health Center since 2004. The former clinician and longtime administrator will transfer to his new role June 5.
"I was really initially struck by the community work that it does, the mental health first aid, and some of the outreach programs, the homeless outreach. Those were really interesting and intriguing to me," Schmitz said of what attracted him to Bert Nash. "Previously, I was a mental health first aid trainer many years ago, so I've always had a fondness for that."
But what "really opened my eyes," Schmitz said, is the level of support he said he observed around Bert Nash during the CEO selection process — among the center's governing and endowment boards, and also throughout the Douglas County community as a whole.
"That impressed me immensely, to see that level of commitment and support," he said.
Originally from Minnesota, Schmitz holds a bachelor's degree in psychology from Minneapolis' Augsburg College and a master's degree in educational and counseling psychology from the University of Missouri.
Before taking on his current role at Plains Area Mental Health Center, Schmitz said he served as executive director of Iowa's Carroll Regional Counseling Center, in addition to several years working as a therapist in Missouri and Iowa.
Schmitz's appointment was announced Monday during the annual Bert Nash Pioneer Celebration. Reggie Robinson, a member of the search committee for Johnson's replacement, said in a statement that Schmitz's "depth and quality of knowledge and experience" in mental health care is partly what earned him the job. Not only that, Robinson said, but "he also understands the community dimensions of doing that work in a place like Lawrence and an organization like Bert Nash."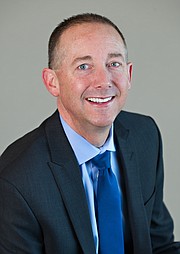 "As we considered the strong field of candidates in the running for this position, it was clear that Patrick possessed a keen grasp of the opportunities and challenges currently confronting the Center and our community, and that he is particularly well-suited to build on the remarkable legacy that David Johnson's leadership has produced for us," Robinson, who also serves as professor and director of the University of Kansas' School of Public Affairs & Administration, said in a news release.
Bert Nash officials last summer said they had reduced staff and discontinued some services after losing more than $1 million in state Medicaid funding. The facility was among more than two dozen community mental health centers across the state that had lost a combined $30 million a year in Medicaid funds to treat low-income individuals with serious mental health problems, the Journal-World reported last July.
Douglas County has also long planned to build a mental health crisis intervention center in association with Bert Nash. In late 2015, the county entered into a memorandum of understanding with Bert Nash to construct a crisis center north of Bert Nash's headquarters, on land the agency already owns. The county has since enhanced the site through the acquisition of the adjacent Lawrence school district maintenance yard.
Schmitz said talks had been "put on hold" for the most part until the arrival of the new CEO. He expects the process to move forward, he said, once he joins Bert Nash this summer.
In his new role, Schmitz hopes to expand Bert Nash's community outreach, better integrating the center's mental health services into "the health care system as a whole." There's also the challenge of "continuing the growth and expansion" of Bert Nash's fundraising capacity, he said, and, of course, the ongoing discussion surrounding Douglas County's mental health crisis intervention center.
Plains Area Mental Health Center, where he currently serves as executive director, opened a similar facility last year, Schmitz said.
"I'm really excited to be able to step into that process at Bert Nash and continue that and see where our role is within that system. And again, how do we expand who we deliver services to, so we can reach out to a broader swath of the population within Douglas County?" he said. "And that might mean doing services a bit differently, because one size does not fit all in health care."
Schmitz will become the third CEO to helm Bert Nash in nearly 40 years, according to the center's press release. He plans to relocate to Lawrence with his wife, Sheryl, a teacher, and his 17-year-old daughter, Kara. The couple's older daughter, Kat, resides in Detroit.

Copyright 2018 The Lawrence Journal-World. All rights reserved. This material may not be published, broadcast, rewritten or redistributed. We strive to uphold our values for every story published.