Silver Lake — In a quiet, largely conservative bedroom community just west of Topeka, something happened Saturday that would have seemed unlikely only a few years ago.
About 50 people turned out for a legislative town hall meeting in Silver Lake, urging their local lawmakers to override Gov. Sam Brownback's veto and take advantage of the Obama administration's signature health care law by expanding the state's Medicaid program known as KanCare.
"I have been so — I hate to use the word embarrassed," said Marilynn Koelliker, who attended the forum, "but to be a Kansan and watch what our governor and our government is doing, I am so ready to give our governor an action that says 'we have lost confidence in you,' and voting to override this veto is the one act to do that."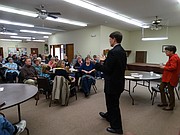 The two lawmakers hosting the forum, Democratic Sen. Laura Kelly and Republican Rep. Fred Patton, said they knew in advance what kind of crowd was going to turn out, and what the predominant message was going to be.
But it was Patton in particular who drew the most direct attention. A moderate Republican who votes against Brownback's policy initiatives more often than not, Patton voted against the KanCare expansion bill when it first went through the House in February, and he now finds himself at the top of the list of lawmakers being pressured from both sides in the upcoming veto override vote.
"Yeah, my phone's ringing off the hook, my email is filling up, my Twitter and Facebook are active, but that's good. We should be hearing from people," Patton said.
During the forum, Patton said he remains torn over the issue of Medicaid expansion, and he wouldn't commit to voting for or against the veto override. But he said he is currently still leaning against it.
He explained that the Medicaid expansion bill came up for a vote in the House on the on Feb. 23, the day after the Senate had failed to override Brownback's veto of a major tax bill, which he had voted for.
"I still felt as though we're headed in the wrong direction," he told the audience. "I'm hearing from everybody, it's going to help a lot of people. I completely get that. So will everything else I'm hearing from people about."
"If you don't look at this in isolation, if you look at everything else we've talked about — KDOT, KPERS, you name it — everything else we're not funding are things I would like to see us fix at the same time," Patton said. "My concern is, do you add one more big box to the ship that is sinking before we fix everything else?"
The mood at the town hall event was surprising because the area around Silver Lake and northern Shawnee County is predominantly conservative. Much of it is farm country, but it also includes upscale suburban subdivisions full of people who commute to Topeka, and working-class neighborhoods where many employees of the nearby Goodyear Tire and Rubber plant reside.
Donald Trump carried Patton's district with 61 percent of the vote in 2016. Republican Mitt Romney carried it with 60 percent in the 2012 presidential race.
But it's also an area that occasionally tilts toward moderates. Democrat Paul Davis carried Patton's district with 52 percent of the vote in the 2014 gubernatorial race.
KanCare expansion is one of the few issues that has separated Patton from Kelly, who is generally seen as a fiscally conservative Democrat. Kelly has been a vocal supporter of the expansion who has vowed to vote in favor of the override, but it first has to get through the House.
It takes 84 votes in the House to override a veto. It had 83 votes on Feb. 22 when the House voted to advance it to final action. But two of those votes fell off the next day when the House voted 81-44 to send it to the Senate.
The Senate passed the bill on Tuesday by a vote of 27-14, which is two votes shy of the two-thirds majority needed to override a veto in that chamber.
Brownback issued his veto Thursday morning, and the House spent more than an hour debating a motion to override. Fearing they did not quite have the votes needed, supporters of the bill moved to table the motion so House members could spend a three-day weekend hearing from their constituents on the issue. That motion passed with 81 votes, although one supporter of the bill was absent on Thursday.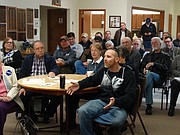 Jake Wall, a younger Topeka resident who drove to Silver Lake for the forum, said he was concerned about what could happen to certain people if Kansas does not expand Medicaid.
"You have hospitals that are closing. You have wings of hospitals that are closing. That's today. What's it going to be like tomorrow if you don't expand Medicaid?" he said. "Where are the seniors supposed to go? My parents, I'll let them come live with me if they have to. But some people don't have family."
One attendee, Jane Kelsey, urged Patton and Kelly to vote against the expansion, but her reasons were different from what is normally heard from expansion opponents.
"Everything, in my opinion, that this Brownback administration has done with KanCare and all that has been so screwed up and ineffective and poorly managed," she said. "I don't want you to vote yes for another screwed-up program run by his administration."
The House could resume the override debate on Monday, or any day next week. But if the House does not vote next week, the veto will automatically be sustained. That's because lawmakers are scheduled to adjourn the regular session on Friday and won't return until May 1, which is beyond the Kansas Constitution's 30-day window for overriding a veto.
Copyright 2018 The Lawrence Journal-World. All rights reserved. This material may not be published, broadcast, rewritten or redistributed. We strive to uphold our values for every story published.