A University of Kansas student accused of sex crimes has been released from the Douglas County Jail after posting bond.
Jon Jacob Myers, 18, was arrested Thursday morning at KU's Oliver Hall, 1815 Naismith Drive. He faces a felony charge of aggravated sexual battery and a misdemeanor charge of sexual battery.
Myers is accused of sexually touching the leg of one woman and putting his hand in the pants of another woman, the Douglas County District Attorney's Office said in a news release. Both incidents allegedly took place on Oct. 25 at Oliver Hall.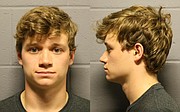 According to a criminal complaint filed in Douglas County District Court, the two women are ages 18 and 19.
Myers' address is listed in Douglas County Jail Booking logs as Oliver Hall.
On Thursday KU spokesman Joe Monaco confirmed there is a student with the same name at the university. Tuesday, he confirmed that student is still with the school.
On Friday Myers was still an inmate at the jail; he appeared in court via camera and pleaded not guilty to the two charges. Judge James George set his bond at $15,000. Myers posted bond later that day.
As a condition of his release, Myers is ordered not to return to Oliver Hall or have any contact with the two women.
Myers is scheduled to appear back in court on Nov. 30 at 2 p.m., when a date will be set for his preliminary hearing.
Copyright 2018 The Lawrence Journal-World. All rights reserved. This material may not be published, broadcast, rewritten or redistributed. We strive to uphold our values for every story published.