Television newswoman Gwen Ifill will receive this year's William Allen White citation for service to journalism.
Dean Ann Brill, of Kansas University's William Allen White School of Journalism, announced Ifill's selection this week.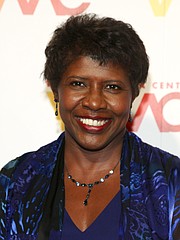 Ifill is scheduled to accept the award at 4 p.m. April 14 in the Ballroom at the Kansas Union, 1301 Jayhawk Blvd.
The William Allen White Foundation annually bestows the national citation to an American journalist who exemplifies William Allen White's ideals in service to his profession and his community, according to the foundation. Winners are chosen by the foundation's board of trustees.
Ifill is moderator and managing editor of "Washington Week" and co-anchor and managing editor of the "PBS NewsHour," according to her PBS biography.
She reports on issues ranging from foreign affairs to U.S. politics, has covered seven presidential campaigns and moderated two vice-presidential debates — Joe Biden v. Sarah Palin in 2008 and Dick Cheney v. John Edwards in 2004.
Ifill wrote "The Breakthrough: Politics and Race in the Age of Obama." Prior to joining PBS in 1999, she was chief congressional and political correspondent for NBC News, White House correspondent for The New York Times and a local and national political reporter for The Washington Post.
She is a New York native and graduated from Simmons College in Boston.
Contact KU and higher ed reporter Sara Shepherd
Have a tip or story idea?
---
More stories
Copyright 2018 The Lawrence Journal-World. All rights reserved. This material may not be published, broadcast, rewritten or redistributed. We strive to uphold our values for every story published.