Topeka — The Kansas Senate on Thursday rejected a proposal that would have given public colleges and universities another four years to comply with the state's concealed carry law, which will require them to allow concealed-carry weapons on campus by 2017.
Sen. Jeff Longbine, R-Emporia, offered that as an amendment onto another bill dealing with concealed-carry rights. He cited a recent Fort Hays State University poll that showed strong opposition among students to allowing concealed weapons on campus.
Under current law, enacted in 2013, state and municipal governments are required to allow people to carry concealed handguns in their public buildings unless the buildings have adequate security to prevent anyone from bringing in weapons.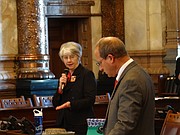 Public colleges and universities are currently exempt from that law until July 1, 2017. Longbine's amendment would have extended that exemption until 2021. Public K-12 school buildings are exempt from the law entirely.
Sen. Forrest Knox, R-Altoona, said banning guns on campus would actually make students less safe.
"The real issues are the crimes that did not happen because young ladies had the means to protect themselves, or young men, or staff," Knox said.
Longbine's amendment failed, 11-26.
But the Senate also defeated, 14-25, an amendment offered by Sen. Michael O'Donnell, R-Wichita, that would have moved up the deadline for concealed carry on campus to July 1 of this year.
He offered the amendment onto a bill that would allow public employees who are qualified to own firearms, even if they're not law enforcement officers, to carry concealed weapons both on and off the premises of their workplaces, including onto private property.
Copyright 2018 The Lawrence Journal-World. All rights reserved. This material may not be published, broadcast, rewritten or redistributed. We strive to uphold our values for every story published.