The second candidate for Kansas University provost is Larry Singell, executive dean of the College of Arts and Sciences at Indiana University Bloomington, KU announced Tuesday.
Singell will give a public presentation from 4 to 5 p.m. Thursday in Alderson Auditorium at the Kansas Union.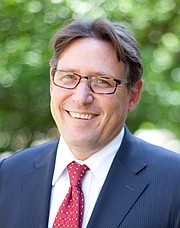 Singell has been in his current position at Indiana since 2012, according to KU's announcement. He's an economist who studies the economics of higher education, and previously was associate dean for social sciences in the College of Arts and Sciences and head of the economics department at the University of Oregon.
KU's provost and executive vice chancellor is second in command for KU's Lawrence campus but does not oversee KU Medical Center in Kansas City, Kan.
The new hire will replace Jeff Vitter, who left KU in December to become chancellor of the University of Mississippi. KU's interim provost since Jan. 1 has been Sara Rosen, senior vice provost for academic affairs.
Singell is one of three candidates for the position, according to KU.
The first, KU School of Business Dean Neeli Bendapudi, gave a public presentation on April 11.
The third, who KU says will be publicly named Friday, is scheduled to present  from 4 to 5 p.m. Monday in the Summerfield Room of Adams Alumni Center.
Candidates' presentations will be streamed online, accessible to those with a KU online ID. KU will post updates regarding the search online at provostsearch.ku.edu.
Contact KU and higher ed reporter Sara Shepherd
Have a tip or story idea?
---
More stories
Copyright 2018 The Lawrence Journal-World. All rights reserved. This material may not be published, broadcast, rewritten or redistributed. We strive to uphold our values for every story published.