Margaret Atwood is taking over Lawrence.
The renowned Canadian author and activist will deliver the Kenneth A. Spencer Memorial Lecture at 7 p.m. Monday at the Kansas Union Ballroom, followed by a reception and book signing.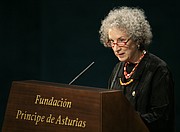 If you go
What: Kenneth A. Spencer Lecture — An Evening with Margaret Atwood
When: 7 p.m. Monday
Where: The Kansas Union Ballroom on the Kansas University campus
Tickets: The event is free and open to the public.
The free event, sponsored by The Commons at KU, is billed "An Evening With Margaret Atwood: Where Do We Come From? What Are We? Where Are We Going?: The Arts, the Sciences, the Humanities, the Inhumanities, and the Non-Humanities. Zombies Thrown In Extra." But the festivities will continue long after Atwood leaves town.

Atwood, who entered the literary world with her 1969 novel "The Edible Woman," is associated with topics such as feminism, civil rights and environmentalism. She is the winner of several awards, including a Booker Prize for "The Blind Assassin" and the inaugural Arthur C. Clarke Award for science fiction for "The Handmaid's Tale."
Her work is varied, and spans several genres from historical fiction to speculative fiction to science fiction to poetry and children's books. Perhaps her most famous text, "The Handmaid's Tale," is the Lawrence Public Library's 2015 Read Across Lawrence selection for adult readers.
The Lawrence Public Library, in partnership with a handful of KU entities, has planned several Atwood-related activities throughout the month of February and into March.
"I was ecstatic and I know a lot of readers who are very ecstatic," said Kristin Soper, events and programming coordinator of the Lawrence Public Library. "I feel it's a pretty big coup for the town to have such a big author come in."
'The Handmaid's Tale'
As part of the Read Across Lawrence programming, Marta Caminero-Santangelo, a professor of English at KU, will lead a discussion of 'The Handmaid's Tale' on Feb. 8 at the Lawrence Public Library.
"She has an amazingly long, productive career," Caminero-Santangelo says. "I don't think it's possible to capture that kind of legacy in one sentence."
Caminero-Santangelo was in college when she read "The Handmaid's Tale" for the first time, and remembers "being transported to that world" Atwood created — a world in which women's rights have been revoked.
First published in 1985, the book is set in a theocratic military dictatorship formed within the borders of what used to be the United States. With birthrates dangerously low because of pollution and sexually transmitted diseases, handmaids (essentially concubines) are assigned to bear children for wealthy couples who cannot conceive on their own.
The protagonist of the novel, Offred — literally meaning "Of Fred," named for the powerful man she belongs to — is one of these handmaids.
Like others in her class, Offred's freedoms are severely restricted. Barred from marriage and romantic relationships, she isn't allowed to leave the house aside from shopping trips, and the state's secret police watch her every move.
In this futuristic former America, the overwhelming majority of women cannot read — not by choice, but by law.
That way, the government is able to keep women from obtaining information and communicating with others. It's not the most obvious message of "The Handmaid's Tale," but it's important all the same, says Caminero-Santangelo.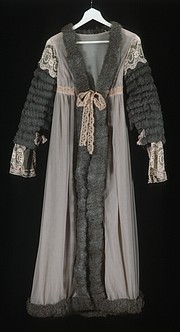 "One thing I think the book says to me is that the essence of women's rights and human rights is rooted in educational rights and freedom of speech, the right to express ourselves without limitation," she says. "If the power and possibility of language are limited, then we are much more constrained in what we can do socially and in what we can imagine for ourselves."
Understanding Atwood through art
In conjunction with Atwood's KU visit, the Spencer Museum of Art and the Lawrence Public Library are hosting "Art Musings on 'The Handmaid's Tale'" Feb. 25 at the museum. The book discussion will begin with a guided tour of artwork that complement the themes of "The Handmaid's Tale."
Susan Earle, curator of American and European art at the Spencer, is selecting pieces for that tour, which she hopes will spur conversations about the social issues portrayed in the novel.
Fertility, color symbolism and the objectification of the female body are some of the themes represented in the tour.
In 1966, artist Mimi Smith took a delicate, lacy peignoir and added steel wool to its collar and sleeves, creating a contrast between "the romanticized view of marriage and the reality of housework and cleaning."
If the original negligee represented women as sex objects, the steel peignoir is a way of declaring, "If I wear this, I'm in control," Earle says.
"Part of the way the handmaids are controlled is that they're required to wear very specific clothing that completely covers their bodies" Earle says. "The peignoir is kind of the opposite of that. In some ways, it's reinvesting women with agency."
Atwood's world: 'One or two steps ahead'
The society described in "The Handmaid's Tale" may seem far-flung, but it's not necessarily out of the realm of possibility. Instead, the novel explores issues that Atwood was observing at the time and amplifies them — a prediction of what might happen.
"It imagines intensification of really problematic gender relations," says Paul Outka, KU English professor. "It's a book that tried to imagine or provide a dystopian future that's based on a kind of intensification of things that are already present."
Outka regularly uses Atwood's 2003 novel, "Oryx and Crate" in his classes. Like "The Handmaid's Tale" and other Atwood works, it's set in a dystopian world that's "one or two steps" ahead of contemporary society.

Atwood anticipated a lot of things, agrees Caminero-Santangelo, notably the recent explosion of post-apocalyptic young-adult fiction.
While many cite "The Hunger Games" as leading the trend, Suzanne Collins' books echo themes from Atwood's work published decades before, she says.
"If you think about that series, it's a series about young adults at war in a society that drastically limits their possibilities for self-expression and survival," Caminero-Santangelo says. "It's interesting to speculate… why our young generations might feel particularly constrained by their possibilities today."
Copyright 2018 The Lawrence Journal-World. All rights reserved. This material may not be published, broadcast, rewritten or redistributed. We strive to uphold our values for every story published.