Photo Gallery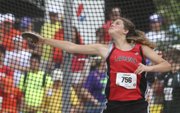 State track at Wichita
Wichita — Matia Finley wasn't happy with all of her throws in the discus Friday morning, but she was happy with the result.
The Lawrence High junior won a Class 6A state championship in the discus for the second straight year at Cessna Stadium.
Last year, Finley topped her twin sister, Rebecca, on her final throw to claim a state title. This season, she won with her first toss of 141 feet, 10 inches.
Rebecca was second, with a throw of 139-09.
"Yeah, I guess last year I was more excited about it because I did really well," Matia Finley said. "This year I just did pretty bad. … I just think my nerves got to me. I was just trying to do so well that I just forgot how to throw."
"It's just like with the adrenaline and stuff, you just want to throw far," Rebecca Finley added. "So you don't really work on the technique as much, you just kind of arm it. When you arm it, it goes down, and you have to work to get it up."
LHS coach Jack Hood said there was more family in attendance than usual for the Finley twins, and that might have contributed to the nerves. They also separated themselves from the rest of the discus hopefuls with their first throws and didn't have much competition besides themselves.
"They didn't have their best series of the year," Hood said. "As an athlete, you want to show up when it matters the most, and she won. That's great. She's not taking anything away from that. She just hoped to PR, hoped to set a new school record, and she's kind of left with a little disappointment."
Any disappointment didn't take away from any of the fun in the celebration. Rebecca and Matia tried to get all of the discus competitors to flex and do power poses on the medal podium before the photographer waved it off.
Lawrence's girls 4x100 relay team — Myah Yoder, Kyleigh Severa, Marissa Pope and Jensen Edwards — set a school record (49.70) while taking fifth place in prelims. Sprint coach Audrey Pope ran the anchor leg for the old record in 2003 and told the relay team and her sister they would top that mark at the beginning of the season.
"It feels really good," Marissa Pope said. "It's even cooler that it's my sister's (record) because we get to take down her name and put mine right back up there, so Pope is still up there on the board. We've always been competitive, and finally I beat her in something, so that feels good."
That wasn't the only highlight for the Lions' sprint relay teams. The girls' 4x400 relay — Yoder, Pope, Edwards and Leah Gabler — ran the fastest time during prelims (3:59.50). Severa, who usually runs on the 4x400 relay, was busy with the long jump, where she took fifth place with a leap of 16-6.25.
On the boys' side, track newcomers Amani Bledsoe (shot put) and Logan Shields (high jump) each took eighth place in his event. Hood told Shields to come out for track after watching him deliver a windmill dunk during an intramural basketball game.
"It's crazy, honestly," said Shields, who cleared 6-4, which is a personal-best for him. "At the beginning of the season, I really wasn't jumping very good. Then, like, toward regionals, I jumped better. Then here I jumped better. It's an amazing feeling."
Shields tried to channel as much motivation as he could from a personal tragedy — his mother's fiance died before the track season — to do well this season.

"I told my high jump coach, 'If you get this kid right, it's going to be something pretty special,'" Hood said. "It took awhile. He's really grown up a lot of this season. I'm proud of some of the things he was able to do in school as much as some of the things he did jumping."
FSHS
Free State senior Trevor Hillis has dominated in the boys' pole vault all season, and it ended with a state title Friday.
One year after falling just shy of qualifying for the state meet, Hillis was the only competitor left when he cleared 15 feet.
"I think his progress this season has been a really fun surprise for us," FSHS coach Jordan Rose said. "He's been good but the progress he has made this year is a pretty big jump. It's been fun to see. I know his (pole vault) coach (Phil Mitchell) has been really excited to see him doing that."
Hillis tried to jump over the bar at 15-9 and had the crowd slow clapping for him at the urging of the public-address announcer.
"I didn't make 15-6 all season. I didn't care for 15-6. It was state, and I was really feeling the energy," Hillis said. "I didn't want to get out at 15-6 again, so I was like, 'If I'm going to go, I might as well jump at 15-9 and give it my all,' and I did."
Hillis wasn't the only state champion for the Firebirds. Freshman Emily Venters sprinted out to a lead in the girls 3,200 and never looked back as she won a state championship in a personal-record time of 10:58.08. Sophomore Claire Sanner finished third in a personal-best 11:06.39.
Though Venters won a cross country title in the fall, she wasn't sure if she could beat the field Friday.
"I'm really happy. I mean, I wanted to win it in my mind, but I wasn't sure I could because of the competition in it," Venters said. "I just went out there with the mind-set I was going to do it. I was like, 'I'm going to do this. I can do this.' I think that helped me throughout the race."
Senior Alexa Harmon-Thomas posted the top times in the 100- and 300-meter hurdles. She ran the 300 in 44.76, the fastest time in Kansas this year. Junior teammate Kiara Clark finished right behind her in second in the 300 in a personal-best 45.47.
In the 100 hurdles, Clark ran the third-fastest time (15.42), and junior Gabbi Dabney (15.44) was fourth. They all qualified for today's finals.
Senior Scout Wiebe took third in the girls' javelin with a toss of 137-10, junior Hannah Shoemaker set a personal record with a throw of 119-1 in a seventh-place finish in the discus, and Ryan Liston took eighth in the boys' 3,200.
The state meet continues at 8 a.m. today.
Copyright 2018 The Lawrence Journal-World. All rights reserved. This material may not be published, broadcast, rewritten or redistributed. We strive to uphold our values for every story published.