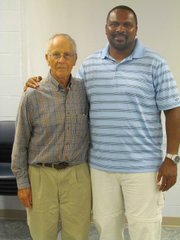 The Kansas Sports Hall of Fame has given the daughter of former Lawrence High coaching legend Bill Freeman one of the best birthday gifts of her life.
"I told everybody, 'I don't want any material things.' This is all I wanted. To hear my dad has made the Hall of Fame ... it's what I wanted. It's amazing. I hung up the phone and I could hardly talk. I couldn't stop crying. I bawled like a baby," said Jennifer Freeman Nauertc, who learned on Thursday — a day before her birthday — that Bill Freeman will be in the Hall of Fame's Class of 2014.
"This is a dream come true. It's the only thing he hasn't accomplished," Freeman Nauertc added of her 83-year-old dad, who led LHS to five state football titles (1979, 84, 86, 87, 89) and two state track crowns (89, 90) in 16 seasons.
The Hall isn't ready to confirm the news to the media — that will come after all the inductees and their families have been told to reserve the date Oct. 5, when the Hall ceremony will be held in Wichita.
Freeman Nauertc, who lives in LeRoy, has been in constant communication with Hall officials for about a year. She started a popular Facebook page, "Help Get Coach Bill Freeman Inducted into the Kansas Sports Hall of Fame," and encouraged former players, coaches, friends and media members to support her dad for the Hall.
Her efforts are the reason his name even appeared on the 25-person ballot.
"I was told they received 10 letters about my dad," she said. "There were five newspapers that ran articles. I'm overwhelmed by all the support.
"I'm going to go see him Sunday (at facility in Burlington where Bill Freeman suffers from Alzheimer's) and tell him. I don't think he'll understand. He has some good days," she added, hoping Sunday is one of them.
"My dad was always the most humble. He didn't like the limelight or a fuss being made over him," Freeman Nauertc said of the 36-year coaching veteran.
Freeman's former players have been elated to see the news on the Facebook page. Now there's a new page: "Coach Bill Freeman Induction Into the Kansas Sports Hall of Fame."
"It's great that coach Freeman made it into the Hall of Fame!" former LHS football player Steve Barbee, a pastor at Grace United Community ministries in Kansas City, Missouri, said in an email to the Journal-World. "One of coach Freeman's quotes is: 'You control your own destiny!' I still remember the day I just dropped by his home, around 1988, there off of Clinton Parkway. He invited me in and asked the question, 'How are you doing?' We sat there in his living room, and yet he still was coaching me with wisdom keys for LIFE!"
Noted former LHS football player Kent Thomas, director of marketing and product development at Crimson Trace Corporation in Wilsonville, Oregon: "Thanks to the influence of teaching, mentoring and growth from coach Freeman, I coached girls high school basketball for several years out here and – not knowing anything about anything when I started – leaned on the foundation of how to build a program, teach, communicate, motivate and quietly/humbly lead learned from coach," Thomas said.
Former Lawrence High track athlete Jason Young, an executive for T-Mobile U.S. in Seattle, added: "One of the underlying themes behind the love that so many of us have for coach Freeman is that he inspired each of us to do our best. Coach was a master at setting audacious team goals and then ensuring that each person on the team knew and was invested in his role in making the team a success. He provided a wealth of support along the way — his fabled Monday afternoon meetings, clear schedules and outcomes, systems and of course plenty of great stories designed first to motivate but also inevitably to amuse. And he genuinely cared about each person on the team. I'm excited that coach will be entering the Kansas Hall of Fame, an honor for which he is long overdue. I can guarantee that none of his former players will be late for that meeting!"
Wrote former track competitor Kyle Roste, a therapist in private practice in Prairie Village: "Coach Freeman has the ability to see potential and draw it out! He was not afraid to put athletes in a position to test their abilities and be successful! I draw upon those experiences today and as a therapist in my private practice. Part of my work is helping other athletes through the stress of competition. I will never forget my experiences with coach Freeman who is overwhelmingly deserving of The Hall of Fame!"
The Hall is expected to announce all members of the Class of 2014 in the near future.
Copyright 2018 The Lawrence Journal-World. All rights reserved. This material may not be published, broadcast, rewritten or redistributed. We strive to uphold our values for every story published.