Contact KU and higher ed reporter Sara Shepherd
Have a tip or story idea?
---
More stories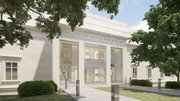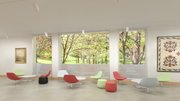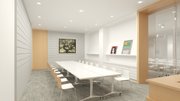 Saralyn Reece Hardy called it one of the more exciting nights in the Spencer Museum of Art's history .
On Thursday, Hardy, the museum's director, and architects from the New York-based firm Pei Cobb Freed & Partners unveiled designs for the first phase of the Spencer's expansion and renovation to an audience of the museum's donors.
Architects began visiting Lawrence and brainstorming four years ago as the museum began raising funds for the expansion. First phase plans call for a rework of 15,000 square feet of the museum.
The newly released designs would expand the museum's entryway and visitor's area and add glass features that would make the Spencer more physically open and transparent and let in more natural light and scenery.
Other changes would expand and renovate the museum's storage and study space, add a new teaching gallery, and connect the central areas of the third and four floor with a staircase and elevator.
"The museum as it is has a sense of monument, which is lovely," Hardy said in an interview. The renovations will "add a transparency to the museum that has not been there before."
The first phase of renovation would almost triple the lobby and visitor area. Moving the front security desk would add space and to visitor's first point of contact with Spencer.
Designers conjured an extended glass vestibule at Spencer's entrance to make it "lighter, more open and more transparent" and "open up the museum to its educational mission," said Yvonne Szeto, one of the lead designers on the project.
Plans would also add natural lighting in the central court area and on the western wall of the museum, by cutting out windows. The floor-to-ceiling windows would face Marvin Grove on the Kansas University campus, which Bruce White, also a lead project designer, called "this magical landscape on campus, and you can't even see it."
The first phase of the expansion is funded by a $5 million campaign managed by the KU Endowment.
The project will also include the new Stephen H. Goddard Study Room of Works on Paper that will increase exposure to stored art and the museum's inner workings for students and researchers. The room is named after the longtime curator and and associate director of the museum and funded by an anonymous gift.
Copyright 2018 The Lawrence Journal-World. All rights reserved. This material may not be published, broadcast, rewritten or redistributed. We strive to uphold our values for every story published.