Emergency crews airlifted a woman with serious injuries to a Kansas City-area hospital Thursday evening following a two-vehicle crash at the intersection of West 27th Street and Sawgrass Drive.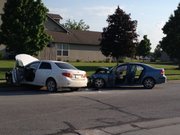 Lyle Schwartz, a Lawrence-Douglas County fire-medical division chief, said the woman was taken to Kansas University Medical Center. He said four other individuals were transported by ground to Lawrence Memorial Hospital with non-serious injuries.
Emergency responders were dispatched to the scene at 5:25 p.m. A narrative of how the crash unfolded was not available Thursday.
Sgt. Laurie Powell, a Lawrence Police Department spokesperson, said the airlifted victim is in her 40s. A helicopter picked her up on the front lawn of Sunflower Elementary School on Inverness Drive.
Sawgrass and West 27th form a three-way intersection. Both vehicles involved rested in the eastbound lane of West 27th after the accident. The two front wheels of a white Toyota Corrolla, facing south, were up over the curb.
Copyright 2018 The Lawrence Journal-World. All rights reserved. This material may not be published, broadcast, rewritten or redistributed. We strive to uphold our values for every story published.