Both hemlock and Queens Anne's lace look like parsley or wild carrots. All are members of the parsley family, and they are showing up now. The parsley, carrot or lace is not the problem — what is the problem is that they're a bit hard to distinguish from poisonous hemlock.
Hemlock is highly poisonous to both humans and animals. Animals will generally ignore it but humans are just too curious.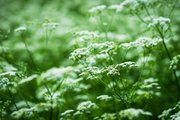 Poison hemlock (conium maculatum) is an erect biennial that produces leaves in a basal rosette during its first year and forms an upright flower stalk when it bolts during the second year of growth. Poison hemlock has dissected leaves that resemble those of parsley and umbrella-shaped clusters of small, white flowers similar to flower clusters produced by many other species in this family. But the stems and leaf stalks (petioles) of poison hemlock differ from other family members in that they are hairless and have distinctive purple spots or blotches.
Also, if bruised, the plant emits a disagreeable mouse-like odor.
Poison hemlock reproduces by seeds that can grow 6 to 10 feet tall and grow quickly in fertile, wet soils.
Originally imported from Europe as an ornamental plant, its spread across the North America has been rampant. The use of hemlock as a poison goes back many years in history. It is said that the ancient Greeks used it to poison their enemies and political prisoners. Socrates, condemned to die as a political prisoner in 399 B.C., drank the juice of the hemlock plant and committed suicide. Native Americans were known to dip their arrows in hemlock.
The large, fleshy, white taproot can be easily pulled from moist ground when plants are small. Manual removal is a means of control but know that the oil and sap from the plant can easily cause a skin rash much quicker than poison ivy. Protective clothing, especially gloves, is recommended.
Several herbicides are effective in controlling poison hemlock. Glyphosate (Roundup) can be used on newly emerged sprouts. Post-emergent herbicides are most effective in early spring and include 2, 4-D, 2, 4-DB and MCPA. 2, 4-D should be combined with a wetting agent when applied.
Because of the large number of seeds that may have been produced, repeated herbicide applications may be necessary. The frequency of application varies with the herbicide. Read labels carefully and follow directions as given.
Copyright 2018 The Lawrence Journal-World. All rights reserved. This material may not be published, broadcast, rewritten or redistributed. We strive to uphold our values for every story published.