When Lawrence's Ethan Perrins had his two turns at the microphone at the Scripps National Spelling Bee, he nailed both words. Nevertheless, he was eliminated from the competition Wednesday.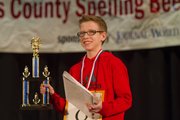 To qualify as a semifinalist, spellers must accumulate at least 28 points from a closed-door preliminary computer exam and spell two words correctly on stage. The bee recognized 46 semifinalists out of 281 competitors after the preliminary rounds wrapped on Wednesday and Perrins was off the list.
The two words he spelled correctly on stage weren't exactly cakewalks, either: "pfeffernuss" and "frittata."
There is one Kansan still alive in the competition, Vanya Shivashankar, a seventh-grader from Olathe.
Perrins is an eighth-grader at Southwest Middle School. He won both the Douglas County Spelling Bee and the Topeka Capital-Journal's Regional Spelling Bee. It was his first appearance at the national competition.
Copyright 2018 The Lawrence Journal-World. All rights reserved. This material may not be published, broadcast, rewritten or redistributed. We strive to uphold our values for every story published.