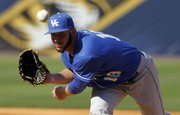 If baseball were a one-on-one game, Ritch Price's Kansas University team might be in trouble Friday during its first NCAA Tournament game in five years.
Waiting across the diamond at Louisville's Jim Patterson Stadium will be Kentucky junior A.J. Reed, the Wildcats' ace on the mound and top hitter in their batting order.
The Jayhawks (34-24) admitted they knew very little about the Wildcats (35-23) in the moments after the bracket was released on Monday. They began their preparation with some help from the ESPN analysts who offered thoughts on this year's field.
"A.J. Reed is running away and hiding with the Golden Spikes award and any other individual award in college baseball," ESPNU host Dari Nowkhah said while breaking down KU's regional, which includes top-seeded Louisville, No. 2 Kentucky and No. 4 Kent State.
Added former Stanford standout and first-round pick Kyle Peterson: "(Reed) has more home runs than almost 200 entire teams. And, oh, by the way, he's won 11 ballgames and he pitches on Friday night for Kentucky. That's a pretty complete guy."
In addition to being named the SEC player of the year earlier this week, Reed earned seven different player of the week honors and was on four different preseason All-American lists.
He backed up the early praise by hitting .351 in 58 games and jacked an NCAA best 23 home runs while adding 70 RBIs and slugging .768. Reed, a 6-foot-4, 240-pound junior from Terre Haute, Indiana, is vying to become the first player to win the SEC Triple Crown since Mississippi State's Rafael Palmeiro in 1983. His home run and RBI totals rank first in the SEC and his average puts him in third place.
If numbers like those weren't impressive enough, Reed dominated on the mound as well, finishing the season with an 11-2 record and 2.10 ERA as the Wildcats' ace.
Senior Jordan Piche' is slated to start on the mound for the Jayhawks on Friday, and senior center fielder Tucker Tharp said facing guys like Reed was what made playing at KU and in the NCAA Tournament so appealing.
"You get to play somebody different than we have seen all year," Tharp said. "Their number one guy is leading the nation in home runs. That is what you come here to play for; you get to play guys like that and teams like that. To get this opportunity is awesome."
Added senior pitcher Frank Duncan, who is slated to start Game 2 for KU: "A.J. Reed is one of the best players in the country. That's why we came to Kansas, to play guys like that, and they're a team full of them."
So, too, is the rest of the regional. The host Cardinals enter with a 45-15 record and boast a likely first-round pick in closer Nick Burdi. And Kent State, the No. 4 seed, was in the College World Series just two years ago.
"No matter where we were gonna go, when you get sent out you're gonna get sent out to a regional with two really high quality teams, and that regional certainly has that," Price said. "Obviously, it is one of the best regionals in the country."
Copyright 2018 The Lawrence Journal-World. All rights reserved. This material may not be published, broadcast, rewritten or redistributed. We strive to uphold our values for every story published.