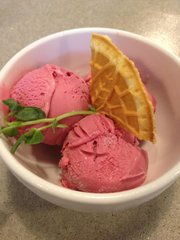 Hibiscus is a flower native to tropical regions of the world, so if you're unfamiliar with this particular ingredient, it's not something springing up in Lawrence. While the large flower petals may appear in white, orange, pink, red, yellow or purple, the hibiscus ice cream at Limestone Pizza + Kitchen + Bar will arrive at your table as a purple-y magenta color, almost too pretty to devour.
It tastes like a sweet and tangy sorbet, the only difference being the creamy texture (from the milk) of this light and refreshing fruity dessert. Three scoops arrive with a crisp waffle cookie.
Where to get it: Limestone Pizza + Kitchen + Bar, 814 Massachusetts St.
What you'll pay: $4, plus tax
Try it with: If you like sweets on sweets on sweets, order the berry crostata ($5) and dip into a sugar coma. Otherwise, you're probably all set with the ice cream.
Also on the menu: Their own special "neo-prairie" pizza made from Kansas flour, local farm-sourced tomatoes and other regional ingredients. The 12-inch personal pizza options include Margherita, mushroom, farmer (bacon, egg, spinach and Gruyere), sausage and a few others. Everything made from scratch, try their non-pizza offerings such as local wings, house pita, ham and beans, pastrami sandwich or number of fresh salads. Keep up with the ever-changing menu for seasonal and innovative new dishes.
Copyright 2018 The Lawrence Journal-World. All rights reserved. This material may not be published, broadcast, rewritten or redistributed. We strive to uphold our values for every story published.