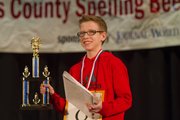 This year, Ethan Perrins had his mind set on just winning a spelling bee at Southwest Middle School. But on Wednesday, he'll walk on stage with ESPN cameras pointed his way, ready to take on whatever words they throw at him for the 2014 Scripps National Spelling Bee in Washington, D.C.
Perrins, an eighth-grader, will be one of 281 spellers to compete over the next two days. In February and March, Perrins took the Douglas County Spelling Bee and the Topeka Capital-Journal's Regional Spelling Bee after nailing the words "insidious" and "disembark," respectively.
And so his ticket to D.C. was punched.
"My goal this year was just to win a school spelling bee, something that I hadn't done before," he said over the phone Tuesday. When asked if he ever thought he would qualify for the national bee, he said, "Oh, no."
His bio page on the bee's website says he overcame a severe stutter when he was younger and now enjoys public speaking and even sings in a school choir. He said Tuesday that English is one of his favorite classes, but he is still "more of a science guy."
Perrins is one of three Kansans in this year's competition. He said he's had the opportunity to meet the other two, as well as other participants.
"It's been a great experience just bonding with all the spellers," he said.
Perrins is "kind of nervous" about the competition, but felt confident from his practice. He said he typically studies one hour a day using flashcards, online quizzes and books.
He arrived in Washington with his parents, two sisters and grandmother on Sunday. On Tuesday, all contestants participated in a closed-door preliminary round of computer testing that set the tone for Kristi and Erik, the parents.
"Just today, with the computer round, we were nervous and that wasn't even something we could watch, so definitely when we're in the room watching him spell and listening to it, I think we will definitely be super nervous," Kristi said. "We've always believed in Ethan and he prepared well. He feels pretty confident going into it, but most of all he's just ready to take in the whole experience and enjoy it."
The bee will be televised on ESPN 3 on Wednesday, at 7 a.m. and 1:15 p.m. Semifinals will air Thursday, on ESPN 2, at 9 a.m., and the finals on ESPN will be later that evening at 7.
Copyright 2017 The Lawrence Journal-World. All rights reserved. This material may not be published, broadcast, rewritten or redistributed. We strive to uphold our values for every story published.