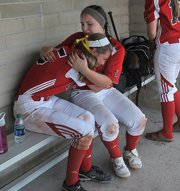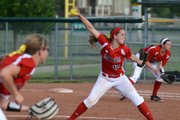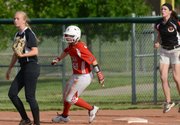 Olathe — Judging by the euphoric reaction from the second-seeded Olathe Northwest softball team, it looked as if the Ravens were hoping to avoid third-seeded Lawrence High in Tuesday's regional championship game.
Thanks to a come-from-behind, 6-5 victory by sixth-seeded Topeka High over LHS in the regional opener, the Ravens got their wish.
Despite out-hitting Topeka 11-7, the Lions' offense managed just one run in the final four innings, leaving the door open for the Trojans to end their season.
Known all season as a team that could put up runs in a hurry, Lawrence (13-8) did just that in the bottom of the third inning. Five different LHS batters recorded hits — three of them for extra bases — and four Lions delivered RBIs in the inning. It was the perfect response to Topeka High's two-run third and seemed to put LHS on the verge of taking control of the game.
But the Lions managed just four hits and one run the rest of the way and Topeka (10-11) pushed runs across in the fifth, sixth and seventh innings to steal the victory.
"They hit us a little better than I thought they would," said first-year LHS coach Joe Dee Tarbutton. "And that wasn't our offense."
Junior Morgan Byrn started the explosive third inning with a smash single. She quickly scored when fellow junior Kenzie Garvin followed with an RBI triple to center field. Garvin tied the game on a perfectly executed squeeze bunt by sophomore shortstop Sophie Taylor and seniors Kristen Gile (single), Marly Carmona (triple) and junior Jolona Shield (double) followed with consecutive hits to give the Lions a 4-2 lead.
"We got key hits every once in a while," said Garvin, who added an RBI double in the bottom of the seventh. "But we needed to get everybody in."
The way starting pitcher Megan Sumonja was throwing, it looked for a while like the 4-2 lead would be enough for the Lions. Sumonja struck out four of the first six batters she faced and rarely gave up solid contact to the THS hitters. But a walk here, an error there and some unlucky positioning allowed the Trojans to score two runs in the fifth, one more in the sixth and the ever-important insurance run in the top of the seventh.
Despite falling behind by two instead of one, no one in the LHS dugout seemed too worried.
"It was deflating," said freshman left fielder Annie Grammer. "But I really thought we could come back and do it. We just fell short."
Added Tarbutton, on whether he thought the insurance run would be the difference: "No, I really didn't. When (Grammer) got that double, I thought we were in. We had the opportunity."
Grammer's double — her second of the day — led off the seventh inning and brought up the top of the order for the Lions. Tarbutton jumped high into the air in celebration as the ball landed just fair in left field behind him, and Grammer could barely stand still on second base.
"I haven't been able to hit a lot all season," Grammer said. "And I just had to do it. It had to happen."
Two batters later, Garvin drove Grammer in with a double of her own that cut the THS lead to 6-5, but Taylor and Gile grounded out in consecutive at-bats to end the game and the Lions' season.
The emotion of the end of a promising season was everywhere. Seniors teared up. Parents consoled their children and LHS players and supporters simply shook their heads.
"You can't judge it completely by W's and L's," Tarbutton said of the season. "It hurts for the seniors and I feel bad for them, but we knew we were a good enough team to go to state. I told them that at the beginning of the year. This was absolutely one of the best teams I've ever coached."
Added Garvin, one of seven LHS starters who will return next season: "It's so hard. I've played with all of (the seniors) growing up and it's definitely gonna be different next year."
---
Topeka 002 021 1 — 6 7 0
Lawrence 004 000 1 — 5 11 1
W – Mikayla Keeling. L – Megan Sumonja.
2B: Kenzie Garvin, Jolana Shield and Annie Grammer (2), LHS; Madeline Anderson, Marrisa Lilly, THS; 3B: Kenzie Garvin, LHS.
LHS Highlights: Sumonja 7 IP, 7 H, 3 ER, 6 K; Morgan Byrn 1-for-3, run; Kenzie Garvin 3-for-4, 2 RBI, 2B, 3B, run; Sophie Taylor 0-for-3, RBI; Kristen Gile 1-for-4, run; Marley Carmona 1-for-3, 3B, RBI, run; Jolana Shiled 1-for-3, 2B, RBI; Andrea Mills 1-for-2; Katelyn Murrish 1-for-3; Annie Grammer 2-for-3, 2 2B, run.
Copyright 2018 The Lawrence Journal-World. All rights reserved. This material may not be published, broadcast, rewritten or redistributed. We strive to uphold our values for every story published.