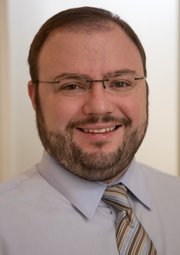 Douglas County Commissioner Mike Gaughan filed paperwork Monday to run for re-election.
Gaughan is a Democrat who represents the First District that includes most of central and eastern Lawrence.
Gaughan was appointed to the seat in 2009 to fill the unexpired term of former Commissioner Charles Jones, who resigned. He was elected to a full term in 2010.
Before running for county commission, Gaughan worked as a legislative liaison for Govs. Mark Parkinson and Kathleen Sebelius. He was also executive director of the Kansas Democratic Party from 2005 through 2008. He is currently a partner in the political consulting firm Kansas Grassroots.
Gaughan earned a bachelor's degree in history from Kansas University in 2001. He and his wife Julia have one son.
So far, no other candidates have filed in the race, according to the Douglas County Clerk's office. The deadline for candidates to file for the 2014 elections is June 2.
Copyright 2018 The Lawrence Journal-World. All rights reserved. This material may not be published, broadcast, rewritten or redistributed. We strive to uphold our values for every story published.