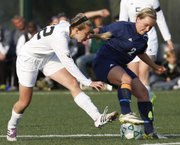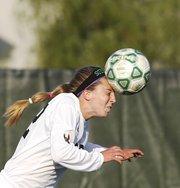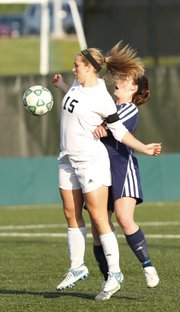 The Senior Night script the Free State girls soccer team envisioned to honor the program's 17 seniors on Thursday night at FSHS had nothing to do with Topeka Hayden taking a one-goal lead.
But there the Firebirds were, 11 minutes into the last home game of their careers, trailing 1-0.
"I kind of got a little angry," senior Maren Kahler said of falling behind. "But we got it into gear and we got the ball rolling."
Added senior Anna Craig: "It made me mad so that encouraged me."
Ten minutes later, Craig put her money where her mouth was by following a rocket off the right foot of senior Hadyn Hutchison to tie the game and send the Firebirds onto a 2-1 triumph.
"(Free State coach Kelly) Barah's been talking to me about shooting from far out because he likes when I shoot," said Hutchison after the game. "When I came to the sideline he said, 'That was from you.'"
Barah was not the only one. While Craig directly benefited from Hutchison's decision to pull the trigger from 25 yards away, she, too, gave her teammate most of the credit for pulling the Firebirds even.
"I try to follow every shot just in case there's that chance and it happened," Craig said of her scrappy goal that caught the Hayden goal keeper off guard. "But it was all the shot. It wouldn't have happened without the shot."
Just before Hutchison's rip, seniors Tanna Fanshier and Jessica Ferguson battled to help the Firebirds (10-6) maintain possession and keep the attack in Hayden's end.
It was Free State that struck quickly in the second half, with Kahler picking up what proved to be the game-winning goal just seven minutes into the second half.
From there, with seniors Kaitlin Dunbar and Maddie Dieker directing traffic in the midfield, Free State's back line of Olivia Hodison, Hanna Heline and goalkeeper Annie Hierl — all seniors — did the rest, keeping the Wildcats out of the net the rest of the way and limiting any quality scoring chances.
In all, Thursday's victory was the final regular-season home game for 17 Free State seniors. Smiles dominated the postgame celebration, which surprised a couple of the Firebirds, who expected more tears.
"I think since we won we're just happy and enjoying the moment," Hutchison said.
Added Kahler: "This is tough because I've played with a lot of these girls since before I got to Free State, so it was an emotional game but a fun game."
Free State now moves into postseason play next week with a likely home game in the opening round up next on Monday. That was just fine with Barah, who said after the game that saying goodbye to so many girls he's spent so much time with during the past four seasons would be difficult, whenever that day arrives.
"I'm not sure if you have enough tape or enough time," Barah said when asked about his seniors. "I can't find the words. That's the group I have. From ladies that can battle to people who care and are just genuinely amazing individuals."
The official seeding information and Monday game times will be released this weekend.
Copyright 2018 The Lawrence Journal-World. All rights reserved. This material may not be published, broadcast, rewritten or redistributed. We strive to uphold our values for every story published.