Topeka — The Kansas Board of Regents on Thursday elected Kenny Wilk as its chairman for a one-year term starting in July. He will succeed the current chairman, Fred Logan.
"It's an honor and a privilege," Wilk said. "I hope to be up to the job, and I appreciate the confidence of my colleagues."
The Board of Regents is a nine-member board that supervises the state's 32 institutions of higher education. Those include the six state universities, including Kansas University, as well as the state's community colleges and technical schools.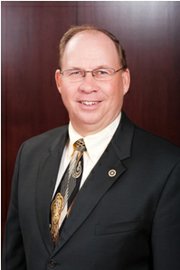 Members of the board are appointed by the governor to staggered four-year terms.
Wilk is a former state legislator who served in the Kansas House from 1993 to 2009, representing a district that covered Lansing. His tenure in the House included two years as chairman of the powerful House Appropriations Committee.
During his time in the Legislature, Wilk was instrumental in crafting legislation that led to establishing the Kansas Bioscience Authority. He also served on the boards of the Kansas Technology Enterprise Corp. and the National Institute for Strategic Technology Acquisition and Commercialization.
Wilk said his goals as chairman will be to continue pursuing the goals of the board's strategic plan, known as Foresight 2020, which call for having at least 60 percent of the state's working-age population having some kind of post-secondary degree or certificate by 2020.
"I want to keep our focus on the board's strategic plan and work with each of the institutions' strategic plans which are complementary to ours," Wilk said.
He was appointed to the Board of Regents by Gov. Sam Brownback in 2011.
He and his wife Darlene now live in Basehor. His term on the Board of Regents expires June 30, 2015.
Copyright 2018 The Lawrence Journal-World. All rights reserved. This material may not be published, broadcast, rewritten or redistributed. We strive to uphold our values for every story published.