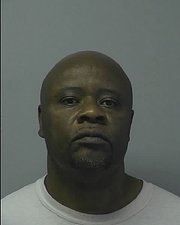 The 53-year-old Lawrence man allegedly involved in separate stabbing incidents last week is now in jail on suspicion of attempted second-degree murder.
Lawrence police on Wednesday arrested Rufus H. Smith, who had been at Stormont-Vail Hospital in Topeka since suffering stab wounds of his own during an early-morning incident May 9 in North Lawrence.
Smith is now in Douglas County Jail on a $100,000 bond. Sgt. Trent McKinley, a Lawrence Police spokesman, said Smith was arrested on a warrant once he was cleared to leave the hospital.
Smith first fled the scene of a stabbing around 1:35 a.m. at a home in the 100 block of Maple Street, McKinley said. Police found a 37-year-old Lawrence man with apparent stab wounds at the scene. After being flown to a Kansas City-area trauma center, the man left the hospital after surgery but before treatment could be completed, McKinley said. McKinley added that the victim and other witnesses remain uncooperative.
Police later caught up with Smith at an apartment in the 2400 block of Ousdahl Road after 6 a.m. that day. The apartment's 24-year-old tenant, who knew Smith, called police after Smith refused to leave her apartment. McKinley said Smith grabbed a knife and tried to stab the woman as she called police, wounding her hand. When officers arrived, they found Smith with serious stab wounds to his torso that police presume was from the earlier incident in North Lawrence.
According to the Department of Corrections, Smith has multiple convictions in Douglas County dating back to 2000. Convictions include drug possession, theft and criminal threats.
Copyright 2018 The Lawrence Journal-World. All rights reserved. This material may not be published, broadcast, rewritten or redistributed. We strive to uphold our values for every story published.