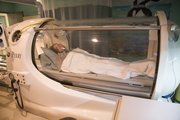 Janice Sell didn't mind lying in a hyperbaric oxygen chamber that simulates the pressure of being 33 feet under water for two hours at a time, five days a week, for two months.
For one, she got to catch up on her television viewing, watching marathon sessions of HGTV. But she was also there to recover, and didn't mind spending time in the pressurized pod if it meant her foot would heal better.
"I think I was kind of in denial," said Sell, 64, of Lawrence, who had a gangrenous diabetic foot ulcer. "I was scared about losing my foot. At the same time, I thought everything would turn out fine."
And it did. Sell is one of the roughly 10 percent of patients at the Lawrence Memorial Hospital Wound Healing Center who uses hyperbaric oxygen therapy, which can benefit people with wounds like diabetic foot sores or bone infections. Wounds require oxygen to heal, so exposing patients to large amounts of it can help speed up that process.
The facility has offered hyperbaric oxygen therapy since opening in 2003. But because the center only uses it in certain cases and doesn't do it for just any injury or illness, it has remained "a really well-kept secret," said physician Scott Robinson.
And it isn't a new medical treatment. It's been used since the early 20th century to treat disorders like decompression illness and carbon monoxide poisoning.
Most wound patients use hyperbaric oxygen therapy in addition to other treatments. Sell, for instance, also underwent debridements (dead tissue removal), Apligrafs and vacuum-assisted closure. It just goes to show how much wound care has advanced in this country from the days when amputation was the only option.
"When I went to medical school, we didn't know anything about wound care," Robinson said. "It's just such a small piece of people's practices. But if you've got a wound on your leg that stinks or won't heal, it's a huge part of your life. …
"The coolest thing we do is when these folks come in with wounds they've had for a year, two years, we help them heal and it changes their lives. They can wear shorts again, they can go to the swimming pool."
Robinson said that not having the hyperbaric oxygen therapy available would be "like practicing with one hand tied behind my back."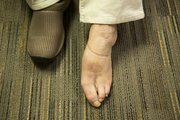 Looking at the before pictures, it's hard to believe Sell still has a left foot. Her multicolored wound was open to her bones and tendons; sutures held together the sole of her foot.
Her problems started in the summer of 2012, when the retiree took a trip to Chicago. Hours of walking caused her to develop blisters on the bottom of her feet; while her right foot eventually healed, the left one did not. Sell, a type 2 diabetic, woke up one day to find her left foot completely inflamed and gangrenous. She eventually ended up having her second and third toes amputated.
Now, after all the wound treatments, including hyperbaric oxygen therapy, her foot is healed. It's narrower now, but Sell said she's become accustomed to it, just like Robinson told her she would (though she isn't ready to wear sandals just yet.)
Robinson said her case shows how advances in wound-healing technology can save limbs.
"If somebody's got something bad, the easiest thing to do is just chop it off and be done with it," he said. "But the downstream ramifications of that are significant. We would have gotten her wound healed right away, but she wouldn't be walking right now. The best-case scenario is this."
Copyright 2018 The Lawrence Journal-World. All rights reserved. This material may not be published, broadcast, rewritten or redistributed. We strive to uphold our values for every story published.