Photo Gallery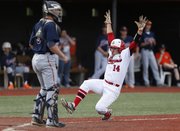 LHS baseball v. Olathe East
Images from Thursday night's game between Lawrence High and Olathe East
Lawrence High's baseball team won a dance-off during a lightning delay but lost a baseball game, Thursday at LHS.
The Lions only managed four hits in a pitcher's duel and couldn't match the runs that Olathe East manufactured on the base paths in a 4-2 loss.
LHS (9-9) senior right-hander Bryce Montes de Oca and Hawks' senior Connor Leach both were effective throughout their outings. Montes de Oca struck out six in four innings, but the Hawks took advantage without making much solid contact.
In the third inning, O-East scored a run through an infield single, two stolen bases and a throwing error. A single, wild pitch and two grounders added another run in the fourth.
"They found a way to win and they found a way to get a few runs scratched across a really good arm," LHS coach Brad Stoll said.
The Hawks (13-5) were on the verge of breaking the game open in the sixth inning, having scored a run and loaded the bases, when lightning forced a 55-minute delay. The two teams passed the time with a dance-off and other activities, highlighted by LHS senior Joe Mikesic going shirtless for the truffle shuffle during the competition.
Out of the break, junior Michael Sinks escaped any further trouble by starting a double play. He also drew a walk and came around to score in the bottom half of the inning but the Lions left two runners in scoring position to end their best chance at tying the game.
"They were just the better team tonight," Stoll said. "Disappointed we lost, but certainly not disappointed in our guys. I thought we fought like crazy there at the end."
The Lions will face Free State at 5:30 p.m. Monday at FSHS — the first of two games between the rivals next week.
---
O-East 001 101 1 — 4 3 2
Lawrence 100 001 0 — 2 12 1
W — Connor Leach. L — Bryce Montes de Oca (2-2).
2B — Brett Anderson (2), OE.
LHS highlights — Montes de Oca, 4 IP, 4 H, 1 ER, 2 BB, 6 Ks; Michael Sinks, 1-for-2, BB, 2 runs, 2 IP, 1 H, 1 ER, 2 K; Drew Green, 2-for-3.
Copyright 2018 The Lawrence Journal-World. All rights reserved. This material may not be published, broadcast, rewritten or redistributed. We strive to uphold our values for every story published.