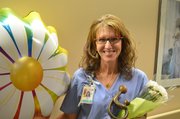 National Nurses Week begins today and ends on Florence Nightingale's birthday, May 12. This year's theme, "Nurses: Leading the Way," acknowledges nurses as leaders at the bedside, in the boardroom, throughout the community and even in the halls of government.
Lawrence Memorial Hospital is pleased to join the nation in recognizing nurses' leadership. This week affords the perfect opportunity to celebrate and say thanks to the nurses in our lives.
Nurses are honored as leaders who improve the quality of health care, expand access to care, improve patient outcomes and coordinate care across various settings. Nurses practice in many diverse roles, such as clinicians, administrators, researchers, educators and policymakers.
LMH uses National Nurses Week to recognize the more than 450 nurses who work in a variety of roles and departments. Nurses promote quality patient care, embrace new technologies, deal with emerging issues, and adapt to ever-changing roles. Nurses play a key role in leading the way for the profession, patients, their organizations and the health care industry as a whole.
A hospital celebration will take place Wednesday, and Thursday the LMH Endowment Association will honor many nurses who are continuing their healthcare education with the annual scholarship presentation.
In addition, the year's past DAISY Award winners will be recognized: Kellian Harrell, RN, 2-North; Jennifer Lemus, RN, emergency department; Wally Brannen, RN, emergency department; Leann Dickson, RN, cardiac/pulmonary rehab; and Coleen Walker, RN, Family Birthing Center/pediatrics.
The DAISY Award is an international program that rewards and celebrates the extraordinary clinical skill and compassionate care given by nurses every day. LMH has been a DAISY Award Partner since 2012, recognizing one of our nurses with this special honor every quarter. Each DAISY Award honoree is recognized at a public ceremony in her/his unit and receives a beautiful certificate, a DAISY Award pin, and a hand-carved stone sculpture entitled "A Healer's Touch."
Patients, families, visitors, nurses, physicians, and LMH employees are encouraged to nominate a deserving LMH nurse at any time. The criteria include that the nurse:
• Establishes a special connection with patients and their families through trust and emotional support
• Has a positive attitude and demonstrates professionalism at work
• Demonstrates excellent interpersonal skills with peers and co-workers
• Collaborates with the health care team to meet patients' needs
• Exemplifies the mission, vision and values of LMH and the Nursing Division
• Models excellent assessment skills and decision making capabilities.
You may find a nomination form on the LMH website at www.lmh.org/daisy. You can also just email a letter to DAISYcommittee@lmh.org or nominations also can be mailed to: Lawrence Memorial Hospital, Attn: DAISY Coordinator, 325 Maine St., Lawrence, Kansas 66044.

As chair of the planning committee for Nurses Week, on behalf of Lawrence Memorial Hospital I wish all the nurses at LMH, in the community of Lawrence, and around the country — Happy Nurses Week 2014!
Copyright 2018 The Lawrence Journal-World. All rights reserved. This material may not be published, broadcast, rewritten or redistributed. We strive to uphold our values for every story published.