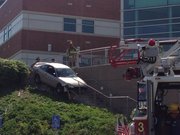 A short car chase ended in a suspect crashing his vehicle on a staircase behind Joseph R. Pearson Hall on Kansas University campus Monday afternoon, according to police.
The suspect was a wanted person, and police were seeking him for outstanding warrants and in an attempt to interview him in connection with another crime, said Lawrence Police Sgt. Trent McKinley. An officer attempted to stop the suspect near the intersection of Ninth and Emery streets around 2:30 p.m.
When the officer turned on his lights, the suspect allegedly made a left-hand turn and accelerated. He drove northbound on West Campus Road before veering into the parking lot south of Joseph R. Person Hall. Then, he attempted to drive down a staircase leading to the east side of the building.
"The car chase lasted less than 30 seconds," McKinley said. "His car was impaled on the railing."
The suspect exited the vehicle and then fled on foot, running northeast toward Memorial Stadium. Police arrested him at 1130 W. 11th St., McKinley said.
The suspect was transported to Lawrence Memorial Hospital.
Copyright 2018 The Lawrence Journal-World. All rights reserved. This material may not be published, broadcast, rewritten or redistributed. We strive to uphold our values for every story published.