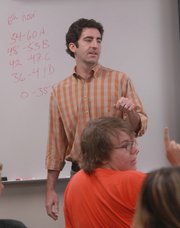 A Free State High School teacher is in fair condition after being transported by helicopter from the scene of an accident late Friday evening.
Jason Springer, who has taught social studies at Free State since 2006, was injured in a bicycle accident at the corner of 8th Street and Monterrey Way around 10:40 p.m. Friday.
There were no witnesses to the accident, said fire-medical division chief Eve Tolefree. How the accident occurred remains unknown.
Someone driving by the area saw a man lying in the intersection and called police, Tolefree said. Fire-medical personnel responded to the scene and found the victim injured and unresponsive.
A LifeStar helicopter transported Springer from nearby L.R. "Dad" Perry Park to University of Kansas Medical Center around 11 p.m. On Monday afternoon, hospital personnel said he was in fair condition.
Copyright 2018 The Lawrence Journal-World. All rights reserved. This material may not be published, broadcast, rewritten or redistributed. We strive to uphold our values for every story published.