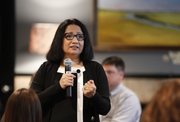 The most important thing students heading off to college can do to ensure their success is to make time and room in their lives for the things that are truly important.
That's the advice from Neeli Bendapudi, dean of Kansas University's School of Business, who gave the keynote address Monday at a luncheon honoring the Top 10 Academic All Stars in The World Company's annual competition.
The Journal-World has sponsored the Academic All Star competition annually since 1997. Students from throughout the region surrounding Lawrence are nominated by their schools and are chosen based on their academic records, extracurricular activities and an essay.
The luncheon honors the top 10 students from that pool, who are selected by a panel of judges. The overall winner receives a $500 scholarship to the college or university of his or her choice.
This year's All Star team included six women and four men. All of them had GPA's of at least 4.0, and all had impressive records of academic achievement and civic involvement. Some plan to go off to small liberal arts colleges. Many will stay closer to home to attend KU or Kansas State University. The team also includes future students of Harvard and MIT.
But wherever they go, Bendapudi said during this year's luncheon, they will all need to invest their time wisely.
She said that includes making time in their lives for friends and family, as well as themselves. And it includes making room in their lives for the wide diversity of people they will soon encounter, as well as making room for their own creativity, without limiting themselves just to their major fields of study.
Finally, Bendapudi urged them to remember that their talents and abilities are tremendous gifts that have been given to them.
"So behave like it," she said. "You are the role models that people look up to. Know that what you do, how many students your counselors will be pointing you out to, to juniors to come, to say that's what you want to be like."
Copyright 2018 The Lawrence Journal-World. All rights reserved. This material may not be published, broadcast, rewritten or redistributed. We strive to uphold our values for every story published.