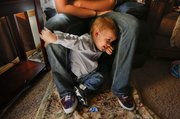 Eudora — Braxton Bottoms dashed around the living room, taking breaks every now and then to smirk at his mom and show off his dimples.
He played with a Batmobile toy until he got bored with it. He dumped out a box of crayons, then tripped over them. He acted like a typical 18-month-old boy: full of energy, clumsy, active.
It's hard to imagine he's the same boy in the cellphone pictures his mom, Brandi, shows a few minutes later. In them, Braxton has burn marks on his face, his head shaved so doctors could treat his wounds. It's harder still to imagine anyone letting that happen to him. Bottoms, however, is telling this story in the hope that she can prevent others from going through similar agony.
Two years ago, Bottoms was living with her dad, a police officer, in Alabama. But after he died, in March 2012, the then-17-year-old moved in with her mother in Eudora. Not long after, she found out she was pregnant. Braxton was born later that year; his father has not been in the picture.
Bottoms works full time at a Lawrence call center, answering phone lines for 1-800-MEDICARE. She had applied for day care assistance from the state — the average cost for an infant to attend a full-time day care center in Kansas is $10,518 — but failed to qualify. Her mom also has a job, so she relied on friends to watch Braxton during the day.
One day in October, Bottoms went to pick her son up from his babysitter, a friend from high school, when she noticed red marks on his face. She thought he might have gotten syrup on himself because his hair was stuck to his scalp. The babysitter told her he had been scratching himself all day, Bottoms said.
The next day, still concerned, Bottoms went to the police and, from there, to an area children's hospital, where Braxton would spend the next five days being treated for his wounds. Since her participation in his injuries hadn't been ruled out, she wasn't allowed to visit her son without supervision.
One night, she said, police questioned her for seven hours. "It was frustrating that I was a suspect. I felt judged, like they thought I was guilty," Bottoms said. "After a few days I was able to spend time with him. But I've never been so angry in my life. For someone to ask you if you hurt your kid, it's almost like you get offended. Even when I look at the pictures it makes me disgusted."
According to Bottoms, the person watching Braxton eventually admitted to putting him in a scalding bathwater after he defecated in his pants, but said it was an accident. Police wouldn't comment on the case other than to say the investigation is ongoing.
Back at home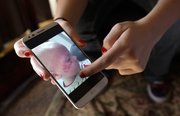 For Braxton, the physical and emotional scars from that day have yet to fully heal. When he cries and his face turns red, you can still make out where the burn marks were. For much of the past several months, he was afraid of the bath tub, screaming and holding tight to his mother whenever she attempted to put to put him in the water. She eased him back into taking baths by washing him in the sink. She uses bath crayons and other toys to entice him into the tub.
"He's still a really happy boy," she said. "But he used to be more outgoing. He's more reserved and cautious about people now." That wasn't evident on a recent day at the family's townhouse in Eudora, when he warmed up to a Journal-World reporter and photographer in short order, talking to them and showing them his favorite toys.
The Lawrence-Douglas County Health Department's young parents support group helped Bottoms through the difficult time. She and many of the group's other mostly teen parents have been meeting biweekly since they were pregnant. "They really reacted to the anger and the stress and the guilt I felt over the situation," she said. After the incident in October, members of the group stepped up to watch Braxton so she could continue working.
She later became eligible for day care assistance and now gets enough help to cover two weeks of day care a month. She pays the rest, and Braxton now goes to a licensed day care center when she works.
An emotional experience
Mandy Gwirtz, a social worker for Healthy Families, the health department's home visitation program for at-risk parents, praised the parental strength Bottoms has demonstrated through this process. "This can happen to anybody, even if you think you know a person well or think you can trust someone with your child," Gwirtz said. "I'm just so impressed with the resilience that she's shown. She expressed a lot of guilt for a really long time."
Parent resilience is one of the five protective factors Healthy Families says can prevent child abuse and neglect, along with knowledge of parenting and childhood development, social and emotional competence of children, social connections, and concrete support in times of need. During the recent Earth Day parade in Lawrence, Bottoms and her son walked with the Douglas County Child Abuse Prevention Task Force to raise awareness about the issue.
On a recent day at the townhouse in Eudora, a few rays of morning sunlight poking through the window, Braxton picked up a box of blocks and turned it upside down, causing the contents to spill across the floor. He picked up a block and lifted it behind his head like he was going throw it at his mom, but instead fell forward into her lap as the object fell to the ground. She teased him back, driving a toy car over his wavy golden locks. He got up and, forgetting about all the toys he had just scattered across the carpeting, tripped and fell. He cried but immediately reached for his mom's embrace, which calmed him almost instantly.
After Gwirtz again commended Bottoms for her resilience — "Your strength as a mom has shined through all this" — the teen responded: "Braxton is the one who's resilient: that he can still laugh and have fun and trust people."
Copyright 2018 The Lawrence Journal-World. All rights reserved. This material may not be published, broadcast, rewritten or redistributed. We strive to uphold our values for every story published.