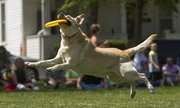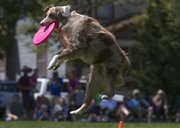 Kat darts after a bright orange disk, zooming 50 yards before leaping into the air and snagging it between her teeth. Without hesitation, she turns around and takes off, pumping her short legs to get back to her owner as quickly as she can.
The 3-year-old Australian Shepherd was one of 33 dogs that participated in the yearly Skyhoundz Disk Championship on Sunday afternoon in South Park. The competition, hosted by the Kansas City Disc Dogs, was free and included categories for both beginners and those experienced in the sport.
The dogs (and the sunny, 80-degree weather) brought out more than 100 spectators. Most in hats or sunglasses with dogs by their side, people lined the perimeter of the playing field, sitting on blankets or in lawn chairs, enjoying the show.
The crowd clapped and hooted whenever one of the dogs managed a last-second snag or jumped feet in the air to catch a high-flyer. They let out a collective sigh when the competitors, mostly shepherds, retrievers or collies, let a close grab slip by.
During the first round, Kat elicited big applause when she made five long-distance catches in the 60-second time frame.
"The good thing about her that's different from a lot of other dogs is she can take a Frisbee at any angle," said Kat's owner, Lawrence resident Wade Rush. "Some dogs, they have to have it over their right or left shoulder and they will only catch it right there. For her, as long as it's close, she'll do whatever it takes to get it."
Rush, a part-time amateur dog trainer, has competed with Kat at the event for the past three years. In her first year, Kat took first place in the novice category. On Sunday, after two hours of competition, Kat was announced as the third-place winner in the advanced group.
"I thought she was pretty good," Rush said. "But there were a few people who were really zinging them out there."
The Kansas City Disc Dogs are hosting another event in Lawrence this summer, the Land of Oz IV Kansas State Disc Dog Championship. It will be held at the Youth Sports Complex, 4911 W. 27th St., on June 15.
Copyright 2018 The Lawrence Journal-World. All rights reserved. This material may not be published, broadcast, rewritten or redistributed. We strive to uphold our values for every story published.