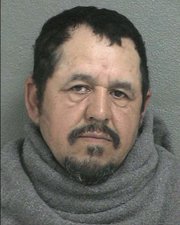 One of three people federal prosecutors say used a rural home south of Eudora to produce methamphetamine for a multimillion-dollar conspiracy tied to a Mexican cartel has been arrested.
A United States Marshal arrested Benito Olivas-Yanez Wednesday in Olathe, according to an arrest warrant filed in federal court. He, along with Ezequiel Olivas-Yanez and Monica Ortiz-Soto, are among 17 defendants indicted in December as part of a conspiracy alleged to have spanned from July 2011 to December 2013.
Benito Olivas-Yanez, a Mexican citizen, is scheduled to return to federal court for a detention hearing on Monday. Olivas-Yanez is the 12th defendant arrested in the case, which is scheduled to go to trial in March 2015. Ezequiel Olivas-Yanez and Monica Ortiz-Soto remain fugitives. All three are charged in the overall conspiracy and were also indicted on charges of possessing more than 50 grams of methamphetamine and for using a home in the 2100 block of North 700 Road in Douglas County to produce methamphetamine. Last August, the Lawrence-Douglas County Drug Enforcement Unit seized nearly 25 pounds of methamphetamine, cash and weapons from the home.
If found guilty of conspiracy, defendants face between 10 years and life in federal prison. The investigation followed nine months of wiretaps between May 2012 and December 2013. According to documents filed in federal court, investigators believe the conspiracy spanned multiple states and into Mexico and was supplied by the Knights Templar, one of Mexico's deadliest cartels.
Copyright 2018 The Lawrence Journal-World. All rights reserved. This material may not be published, broadcast, rewritten or redistributed. We strive to uphold our values for every story published.