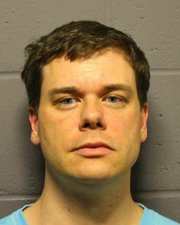 A Lawrence man entered no contest pleas to two counts of breach of privacy to avoid going to trial on charges of secretly videotaping people in changing rooms downtown in 2012 and 2013.
Orion M. Graf will be sentenced June 30 after entering the pleas in Douglas County District Court on Friday. Last month, District Judge Sally Pokorny ordered Graf to turn over unencrypted information stored on a hard drive seized in the investigation.
Graf was scheduled to stand trial May 14 and faced 10 counts of breach of privacy in connection with offenses alleged to have occurred between Nov. 1, 2012, and Feb. 23, 2013. Graf was arrested and charged after investigators found a small camera with a battery pack in the dressing room of the Gap, 643 Massachusetts St., and later seized computers and an external hard drive belonging to Graf.
Investigators reviewed approximately 17,000 video clips on the computers and, through reviewing its usage history, found a "strong interest in voyeuristic themes" and "hidden camera videos in locations where people were naked."
Copyright 2018 The Lawrence Journal-World. All rights reserved. This material may not be published, broadcast, rewritten or redistributed. We strive to uphold our values for every story published.