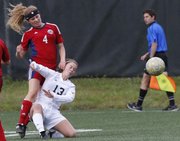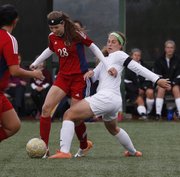 There was so much confusion surrounding the Free State High girls soccer team's first goal during Thursday's 2-0 victory over Olathe North that the player who was credited with it had no idea even as she left the FSHS pitch.
Midfielder Sabrea Platz, one of two freshmen on a Free State varsity roster dominated by seniors (Molly Bryant is the other freshman), was credited with the goal after getting loose near the six-yard line on a furious attack by the Free State offense.
As the ball was played into the box, several Firebirds rushed the net and created a scrum in the Eagles' box. The ball appeared to go off of Olathe North's Brooke Hogan and into the net, and Free State led 1-0.
"It was kind of a relief," Free State senior Kaitlin Dunbar said. "But we worked hard to get that goal, and I feel like we deserved it because of the pressure we put on them."
Free State coach Kelly Barah agreed with Dunbar's assessment and said Platz continued to put herself in a position to make things happen.
"She's just a person who will sacrifice her body however she has to to get that goal," Barah said. "The way soccer is structured, you should have a lot more goals like that, and that's something we practice."
The Firebirds (8-4) dominated possession and spent at least 80 percent of the game playing in the Eagles' end.
Later in the first half, that strategy led to more good fortune, as Dunbar was fouled in the box and awarded a penalty kick, which she promptly buried to give FSHS a 2-0 lead.
"Her motor has just been unbelievable this year," Barah said of Dunbar. "And you really notice it in games like this that people feel we should dominate and then take our foot off the pedal. She doesn't do that. She just keeps going."
The entire Free State team followed Dunbar's lead Thursday, with the back line of Jessica Ferguson, Olivia Hodison and Hanna Heline putting up an intimidating defensive wall in front of goalkeeper Annie Hierl that kept North (6-6) scoreless and supported the Firebirds' attack. Olathe North put just two balls on net in the second half.
"We pride ourselves on shutouts," Dunbar said. "That's one of Barah's main points of emphasis."
Free State will play its final road contest of the regular season Monday at Olathe East before closing the season with three consecutive home games.
Copyright 2018 The Lawrence Journal-World. All rights reserved. This material may not be published, broadcast, rewritten or redistributed. We strive to uphold our values for every story published.