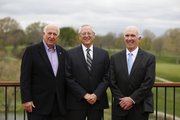 On Thursday, four longtime Lawrence residents and business leaders were named to the Lawrence Business Hall of Fame and will join the 20 businesspeople inducted since Junior Achievement of Kansas began the project five years ago.
This year's Hall of Famers will be Jim Schwartzburg, founder of Packer Plastics in Lawrence; Bill Penny, owner of Penny's Concrete; Dale Willey, the retired chairman of Dale Willey Automotive; and the late Sidney Garrett, longtime president and CEO of Brown Cargo Van Inc.
The honorees were picked by an independent committee based on their contributions to Lawrence and were announced at an event at the Lawrence Country Club.
Some of this year's honorees were Kansas University graduates, and all had lived in Lawrence for more than 30 years and figured prominently in the commercial life of the city.
Penny graduated from KU in 1972 with a civil engineering degree and began building up concrete operations with his wife, Marlene. He called Lawrence "one of those towns that gives you opportunities and the kind of people you just love being around."
Garrett also graduated from KU, with degrees in mathematics and education. Speaking about Garrett, who died of renal cancer in summer 2011, was her cousin Jennifer Newlin. Newlin described her cousin as someone who taught by doing and did what she wanted and loved, at a time when not all women did.
"In sports she was always team captain, and that's how she lived her life," Newlin said.
Schwartzburg actually turned down a KU football scholarship to play in Florida, where he grew up. But he eventually migrated to the area and started Packer Plastics in Lawrence. Schwartzburg said Lawrence provided him with personnel and support from the university that helped make his company successful.
Willey purchased his first auto dealership in 1970 and has lived and worked in Lawrence since. "It was a small town back then," as Willey described Lawrence when he started. At the time, his dealership had just 11 employees. Today Willey Automotive has 58 employees and a sprawling complex on Iowa Street.
This year's honorees will be officially inducted into the Hall of Fame at a dinner Oct. 8 in the Kansas Union.
Junior Achievement of Kansas is part of the national Junior Achievement organization, which provides business and economic education for young people.
Copyright 2018 The Lawrence Journal-World. All rights reserved. This material may not be published, broadcast, rewritten or redistributed. We strive to uphold our values for every story published.