With summer right around the corner, I have vacation on my mind a lot lately. The carefree afternoons, the inevitable sunburns, spending way too much time with my ornery cousins; summer vacations make for nostalgic memories.
My childhood summer vacations were made all the more special with matching T-shirts — worn by me and all 25 members of my extended family (oh yeah). In an effort to honor this year's summer vacation, we're bringing back the matching tees! And while my 13-year-old self would be mortified to hear me admit this, I couldn't be more thrilled to relive the overt unification that personalized T-shirts offer. Since our very own Acme, 847 Massachusetts St., offers "hot and fresh T-shirts made to order," I know I can turn to Acme for all of our T-shirt needs.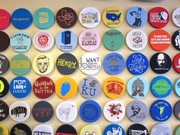 Acme is well prepared for the matching-summer-vacation-T-shirts request, but it's also capable of accomplishing orders in the thousands, or just a single personalized T-shirt, too. This flexibility certainly makes it a popular option, since many T-shirt printing companies require a minimum order much higher than one. What's more, with Acme located conveniently on Mass. Street, you can save on shipping costs and experience super-quick service (small orders can be completed same day).
Whether stopping by to place a T-shirt order, or just popping in to see some of the fun and silly new T-shirt designs plastered across the north wall of the store, visiting Acme is always a pleasure. Curious to know what the more popular orders have been, I asked Acme's store manager Cait. She said they really get the run of the gamut, stating "some are kickball teams, some are science clubs, some are girls that really need to make their own bestie tank tops, and some are expecting mothers that need a funny onesie. All occasions!"
Acme advertises its hot and fresh T-shirts as super quick, dirt cheap and anything goes (within reason, of course). With same day pick-up available, custom T-shirts starting at $15.95 and personalized designs allowed, I'd say Acme is true to its word. Not the T-shirt type? It also offers tanks and hoodies! The service and options here are hard to beat. I look forward to my matching family vacation tees already.
— Jessica Pauly, aka Mrs. Mass., gives her thoughts on shopping, urban living and what's new in Lawrence in CheckOut weekly and on her blog, mrsmass.com.
Copyright 2018 The Lawrence Journal-World. All rights reserved. This material may not be published, broadcast, rewritten or redistributed. We strive to uphold our values for every story published.