Love Garden Sounds, 822 Massachusetts St., an iconic Lawrence record store that is home to 100,000 records and two cats, and its staff are celebrating the store's 24th anniversary.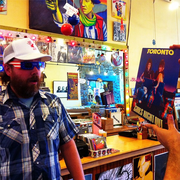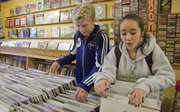 If you go
Love Garden Sounds 24th Anniversary Concert will be at 5 p.m. Sunday at the Granada, 1020 Massachusetts St. Tickets cost $12 in advance. Bands scheduled to perform include Woods, Blood on the Wall, Quilt, Oils, CS Luxem, Your Friend and Psychic Heat.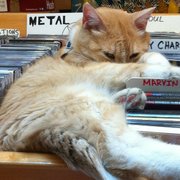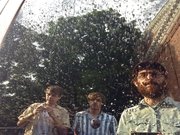 The celebration will culminate at the Granada, 1020 Massachusetts St., at 5 p.m. Sunday. Ten bands will perform on two stages, and tickets cost $12.
The lineup includes both the winner and runner-up of this year's KJHK Farmer's Ball, Psychic Heat and OILS, respectively. Lawrence and Kansas City bands CS Luxem, Your Friend, Gnarly Davidson, No Magic and Brooke Tuley will also perform.
The lineup also includes a few favorites — and friends — of the store over the years.
"I wanted to be representative of a lot of the things that have been happening in Lawrence recently that I felt like people were excited about," owner Kelly Corcoran said, "or at least involved in our world here at the store."
That includes Woods, a Brooklyn folk-rock band that just released their seventh album, "With Light and With Love," and who played at Love Garden in 2008. There's also Quilt, a Boston band that just played an NPR Tiny Desk Concert. Blood on the Wall, which contains two Lawrence members (one of them a former Love Garden employee) and flourished in Brooklyn, will play its first show in about five years.
"Basically it's my favorite record store in the world," said Courtney Shanks, bassist for Blood on the Wall. "We did a lot of touring all over the country ... and even some international touring. I think [Love Garden] was my favorite record store I've ever been to in my life. It's amazing. It's a beautiful gem of a treasure. People don't even realize how good they've got it."
Corcoran first began shopping at the store in the early '90s when it was located on the 900 block of Massachusetts Street. After becoming a regular shopper (he estimates he owns upward of 3,500 records), Love Garden founders and then-owners Kory Willis and Zippy Hester hired him in 2000. Corcoran has owned the store since 2004. The store moved to its current location in 2009.
"Moving the store was a pretty traumatic thing," Corcoran says. "We had two stores running at the same time. One store was the new, more active stock. The other store we discounted stuff... we were just getting rid of stuff."
Though 24 may not seem like the most obvious anniversary to celebrate in a large way, a great lineup just seemed to fall into place this year.
"I pitch ideas from year to year, and sometimes when I have the energy to do it, and I think that I can make it fun, I try to throw my weight behind an event," Corcoran said. "The event itself will be a spirit-lifter for everyone there, and that's what I'm going for. Just a fun thing to celebrate the store — because it's kind of wacky that we're still a record store 24 years later. That's a long, long time."
Copyright 2018 The Lawrence Journal-World. All rights reserved. This material may not be published, broadcast, rewritten or redistributed. We strive to uphold our values for every story published.