Contact KU and higher ed reporter Sara Shepherd
Have a tip or story idea?
---
More stories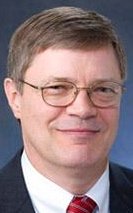 As head of Kansas University's office of research, Steve Warren has helped lead the university through five years of growth in federal research awards, even as federal budget cuts have shrunk the total pot available to universities competing for dollars.
Now Warren is leaving his position to do the thing he loves most — research itself. "I feel like we're in really good shape considering the world we live in. I've enjoyed the job immensely," Warren said. But after seven years as a high-level university administrator, he still feels he has work to do in the field that needs his attention. "I'm not done."
Warren announced Monday he would step down as vice chancellor of research at the end of the current academic year to take a yearlong research leave. He will then return to full-time research and teaching in fall 2015.
KU Provost Jeffrey Vitter has appointed Mary Lee Hummert, vice provost for faculty development, as interim vice chancellor for research beginning May 19, the university said. A national search for Warren's permanent successor will begin soon.
Warren came to the post in 2007, at first filling in as interim vice provost for research and graduate studies following Jim Roberts' departure. He took over permanently in 2008 and became a vice chancellor in 2010. He had previously served as director of KU's Lifespan Institute.
Along with the vice chancellor position, Warren is a professor in the department of applied behavioral science at KU. His own research has focused on understanding and treating developmental disorders that impair language skills in children.
Getting to that research has been hard given Warren's responsibilities as an administrator. Last Thanksgiving he found himself working on a grant proposal during the holiday. That was when he realized trying to be a successful administrator, researcher and professor all at the same time wasn't sustainable.
Warren said he is proud of the growth in research and funding, both federal and private, his office has overseen at KU. Yet whoever follows him as KU's permanent head of research will likely face a federal funding climate far more uncertain than the one Warren found when he started the job.
And Warren, when he becomes a full-time researcher again, will have to face the same tough climate, which he says forces faculty to be savvier and more dogged in pursuing grants. For Warren, the desire to continue his work in the field is driving him forward, and away from a high-profile job.
"I want to have an opportunity to do those things I love," he said. "I don't want it to die."
Copyright 2018 The Lawrence Journal-World. All rights reserved. This material may not be published, broadcast, rewritten or redistributed. We strive to uphold our values for every story published.