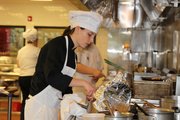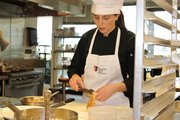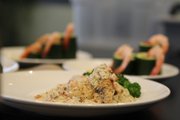 Gina Skinner has sliced and diced her way to a $1,500 tuition scholarship from the International Culinary Schools at the Art Institutes.
Skinner, 25, of Lawrence, competed against other culinary hopefuls in a "Chopped"-inspired cook-off at the school's Kansas City-area location in Lenexa on March 8.
The contestants, split into high school senior and adult categories, had to prepare a two-course meal consisting of a shrimp cocktail, sauteed chicken breast, rice pilaf and broccoli.
Unlike in the popular Food Network program, the contest involved predetermined recipes and gave Skinner and her competitors about a week to practice before the day of the cook-off. Skinner beat two other adults in her category before being named the overall winner.
She and the other contestants were judged on knife skills, safety and sanitation, organization, cooking techniques and cleanup. The finished meals, completed in 90 minutes, were evaluated by temperature, taste, texture, portion size and presentation.
"I wasn't nervous but I wasn't super confident either, because I figured there would probably be people with more experience than me," Skinner said.
Skinner, who said she learned "the basics" from her mother and grandmother growing up, started cooking professionally only five months ago.
The Lawrence High School grad received a degree in anthropology from Kansas University in 2011 and considered a nursing career before volunteering with the World Wide Opportunities on Organic Farms program, or WWOOF. She first worked at a farm in Hungary and then completed a three-month stint at a New Hampshire farm last summer.
"I had always loved cooking and I had always loved growing food," Skinner said. "So, after I got done working on the farm, I just realized that that's what I wanted to do."
Now a sous-chef at Evan Williams Catering in Lawrence, Skinner hopes to one day run a small farm-to-table cafe using ingredients she has helped grow herself.
Until then, Skinner has another goal — winning the "Chopped" Scholarship Competition's $40,000 grand prize. As winner of her local cook-off in Kansas City, Skinner is now a semifinalist for the title, and must provide a statement of intent to Art Institutes judges. If chosen, she will face off with three other finalists in the Food Network Kitchens in New York City.
It's an exciting prospect for Skinner, who at this point isn't sure whether she will accept her $1,500 tuition winnings. Culinary school is expensive, she said, and she's already learned so much from her time working in the food industry. Winning the $40,000 might change her mind, though.
"I'm already doing it and I'm getting a lot of experience working with her," Skinner said of her time with Evan Williams. "It would be kind of like an extra bonus if I was able to go with a scholarship."
Copyright 2018 The Lawrence Journal-World. All rights reserved. This material may not be published, broadcast, rewritten or redistributed. We strive to uphold our values for every story published.