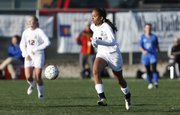 Lawrence High's girls soccer players wanted to prove that they are much better than the team that won one game last season. They quickly made their point in their season opener, Tuesday at LHS.
In the 30th minute of the Lions' match against Pembroke Hill, senior Danielle Campbell pushed a pass up the right sideline for freshman Carson Drake, who fired a beautiful low cross around every defender to the foot of sophomore Erin Ventura. The Raiders' goalkeeper didn't have a chance as Ventura slipped the shot into the back of the net for a goal.
The Lions used their speed and strength to control the tempo throughout most of the game, a 2-0 victory.
"It was really nice," Ventura said. "I'm just glad that we won, and to show everyone we can and we're better than last year."
Senior Addison Campbell, a short-legged attacker who moves faster than a hiccup past opposing defenders, had a game-high six shots. After one shot off the crossbar and other near misses, she danced around a defender for a breakaway and scored to give the Lions a 2-0 lead in the 61st minute.
"I was just in the mindset that I was going to score one," Addison Campbell said. "I kept missing and missing, and I just told myself that I was going to get one, and I did."
Drake, who worked like a savvy field general in her varsity debut, made crisp passes throughout the game to find open teammates and start runs. Fellow freshman Skylar Drum used her long strides to streak past defenders and made a few crosses that nearly turned into goals.
"They stepped in and I feel that they gave us a little boost of energy," LHS coach Justin Young said. "Seeing Erin step in and put a goal away is great. She did well for us last year at the lower levels and I had confidence that she could be playing at this level."
Pembroke Hill coach Matt Pritchett was yelling throughout the game at his players to keep up with the Lions, who picked up eight fouls with their aggressiveness but outhustled their counterparts for most loose balls.
"It felt good," Drake said. "We've been working really hard and it's finally good to just play and show everyone how hard we've been working."
Senior goalkeeper Alex Ewy made six saves, but didn't have to face many chances as her defenders — Danielle Campbell, sophomore Elaine Harris, senior Whitney Simons and senior Laura Neilsen — shut down most opportunities. Danielle Campbell led the defensive effort by frequently out-muscling opposing attackers.
"There's a reason, I think, the girls voted (Danielle Campbell) captain," Young said. "She was an anchor last year. Being senior leadership, that's great. Just to see that she's hopefully going to bring those other girls up to play at her level, she's definitely a solid person to have back there."
LHS only scored seven goals in 17 games last year, but the Lions' offense dominated Tuesday, outshooting the Raiders, 17-8.
"It was actually really nice," Addison Campbell said. "I think it really set the tone for the season that we can do good things."
The Lions will face Baldwin at 7 p.m. Tuesday at LHS.
Copyright 2018 The Lawrence Journal-World. All rights reserved. This material may not be published, broadcast, rewritten or redistributed. We strive to uphold our values for every story published.