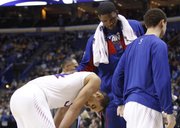 Kansas University freshman center Joel Embiid took to Twitter on Monday to express his feelings about the 2014 NCAA Tournament.
"WHAT IF..........?????" the 7-footer from Cameroon wrote, presumably asking the world to consider what might have happened had he not been suffering from a stress fracture in his back and been able to play in KU's 60-57 Round of 32 loss to Stanford in St. Louis.
Obviously there's no way of knowing if a healthy Embiid would have led KU into Thursday's Sweet 16 game against Dayton in Memphis — a game in which the Jayhawks would have been favorites.
"Hurts so bad," Tweeted freshman guard Wayne Selden, who had two points off 1-of-5 shooting with three steals in 18 minutes against Stanford. "I have so much love for this team, and for it to come to an end like this is so painful. But it was a good year with a great group of guys. Thank you to all the fans that stayed faithful through our ups and downs. Sorry we couldn't pull through..Rock Chalk."
Senior elder statesman Tarik Black, who had 18 points and six rebounds, offered advice to KU's returning players, plus signees Cliff Alexander and Kelly Oubre following the defeat. KU, the regular-season Big 12 champion, finished 25-10.
"You go through college to teach you something. (There are) good times and bad times," Black said. "The good times you experience, hold onto them, remember them and what you did to have them. And the bad times ... remember what you did wrong so you can fix them."
Some of the returning players said the Jayhawks would learn from a disappointing end to the season.
"Maybe we could have made a great run in the tournament if we played well today," freshman Conner Frankamp said. "It's going to be tough to move on. It'll take a lot to move on. We'll have to regroup and try to get ready for next year."
Noted junior guard Naadir Tharpe: "I'm not thinking about anything except we have to wait a whole 'nother year to play again. We could have had a nice run in this. It's sad it ended this way, so early."
"This season finished short for us. We didn't want that to happen," sophomore Perry Ellis said. "It just hurts knowing we had so much potential and finished short. Next year it is going to be a whole different team."
As it stands today, the Jayhawks have filled all 13 scholarship slots with one-and-done Andrew Wiggins and senior Black being replaced by center Alexander and shooting guard Oubre, who are currently ranked Nos. 4 and 12 nationally in the recruiting Class of 2014 by Rivals.com.
The returnees on paper: senior-to-be Tharpe, juniors Ellis, Jamari Traylor, Andrew White III and Arkansas transfer Hunter Mickelson; sophomores Embiid, Frankamp, Selden, Landen Lucas, Frank Mason and Brannen Greene. Walk-ons Christian Garrett, Evan Manning and Tyler Self are also slated to return.
KU could have up to three additional scholarships. Embiid is expected to be battling Wiggins for the No. 1 slot in the 2014 NBA Draft. Selden is considered a second-rounder, not a first-rounder, at this time, according to unnamed NBA scouts contacted by the Journal-World. He's currently not listed on the draft boards of draftexpress.com or nbadraft.net. Transfers, of course, are always a possibility. White did not discount the possibility of transfer in a recent interview, indicating he was only concentrating on the tourney at this time.
Kansas is still in the hunt for No. 6-rated Myles Turner, 6-11 from Trinity High in Euless, Texas, who is said to have Texas and KU as his leaders. He's also visited Ohio State, Oklahoma State and Duke and has Kentucky on his list. There are also expected to be some transfers available nationwide, some with immediate eligibility upon their graduation. No names have yet surfaced of transfers or juco possibilities.
The schedule: In 2014-15, KU will play Kentucky in the Champions Classic in Indianapolis; Georgetown in Verizon Center, the home of the Washington Wizards; and Temple in Wells Fargo Center, home of the Philadelphia 76ers. KU will meet UNLV in Allen Fieldhouse and Utah in KC's Sprint Center. KU also will play a team from the SEC in Allen in the Big 12/SEC Challenge. The opponent likely will be Florida.
The Jayhawks also will play in the Old Spice Classic with Georgia Tech, Marquette, Michigan State, Rhode Island, Rider, Santa Clara and Tennessee.
As far as future tourneys, KU will likely play in Maui in 2015 and the CBE Classic in Kansas City in 2016. No tourney yet is on tap for 2016-17, with the Battle 4 Atlantis a possibility.
Tarik Black's Tweet after loss: "Thank you to each and every person that supported this team this year. We played hard and fought but fell short. I love you all."
And ... "Just to clear up the air...I wasn't crying, I had sweat in my eyes (postgame). You know the salt makes you all teary eyed and stuff. Lol."
KU football coach Charlie Weis' Tweet: "Only one team gets to be crowned champions. That doesn't mean everyone else failed. Don't lose sight of the 10th straight league title."
Copyright 2018 The Lawrence Journal-World. All rights reserved. This material may not be published, broadcast, rewritten or redistributed. We strive to uphold our values for every story published.